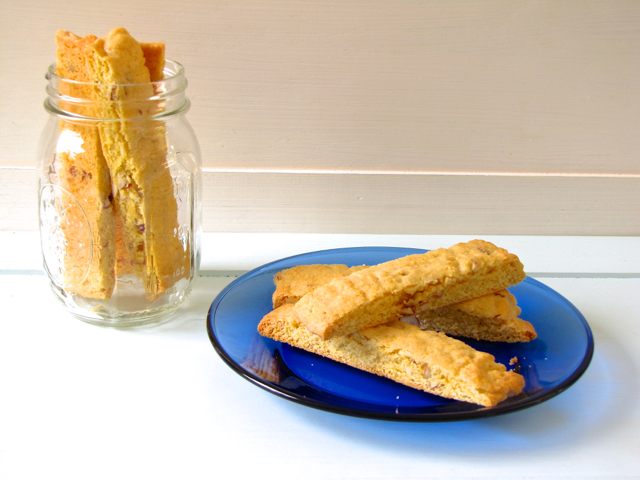 Biscotti is one of my favorite breakfast treats. I mean, now that I am a responsible adult (har har), there is no one telling me that I can't have a "cookie" for breakfast! It makes that cup of coffee in the morning even more exciting. I love to dip it in my coffee, or eat alongside. And then maybe have it as a treat after lunch too….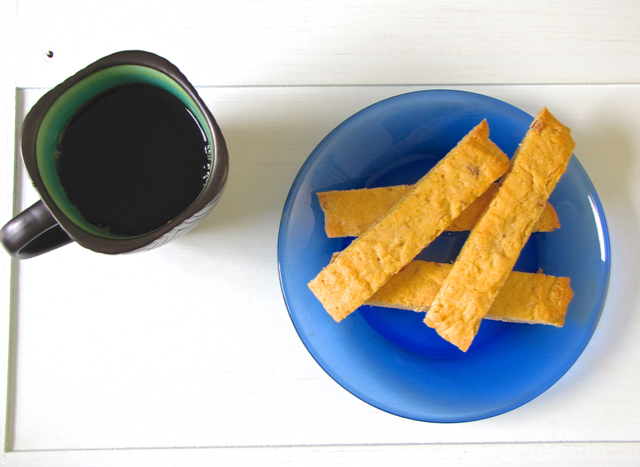 This biscotti is so simple, yet elegant. And it makes your house smell delicious to boot. The almond taste is so smooth with a hint of sweetness. It's pretty minimal compared to the other biscotti recipe I have on here. But, sometimes simple is a nice change.
This makes a great, easy gift, or whip it up on the weekend to have for a treat all week for yourself.
---
Recipe adapted from Annie's Eats, originally adapted from Baking: From My Home To Yours by Dorie Greenspan
Almond Biscotti
This almond biscotti is perfect for dipping into your coffee or serving with an afternoon cup of tea.
Ingredients
1 1/2 cups all-purpose flour
1 1/2 teaspoons baking powder
1/4 teaspoon salt
1/2 cup yellow cornmeal
8 Tablespoons unsalted butter, at room temperature
1 cup sugar
2 large eggs
1 1/2 teaspoons almond extract
3/4 cup sliced almonds, toasted
Instructions
Preheat the oven to 350 degrees F. Line a baking sheet with silpat or parchment paper.

In a small bowl, whisk together the flour, baking powder and salt. Add the cornmeal and whisk again.

In the bowl of a stand mixer fitted with the paddle attachment, beat the butter and sugar together at medium speed for 3 minutes, until very smooth. Add the eggs and continue to beat, scraping down the bowl as needed, for another 2 minutes, or until the mixture is light, smooth and creamy. Beat in the almond extract. Reduce the mixer speed to low and add the dry ingredients, mixing until they are just incorporated. Scrape down the bowl and paddle and fold in the almonds.

Scrape half of the dough onto one side of the prepared baking sheet. Form the dough into a log about 12 inches long and about 1 1/2 inches wide. Form a similar size log on the other side of the baking sheet with the remaining dough.

Bake for 15-20 minutes, or until the logs are lightly golden but still soft and springy to the touch. Remove from the oven and let cool for 15 minutes, maintaining the oven temperature.

Place the logs, one at a time, on a cutting board. Cut into 1 inch pieces, width-wise. Place the pieces back onto the baking sheet in log form with about 1/2-1 inch between each piece. Place back in the oven and bake until golden, about 10-15 minutes. Let cool completely before storing.
Notes
Store at room temperature for 1-2 weeks.