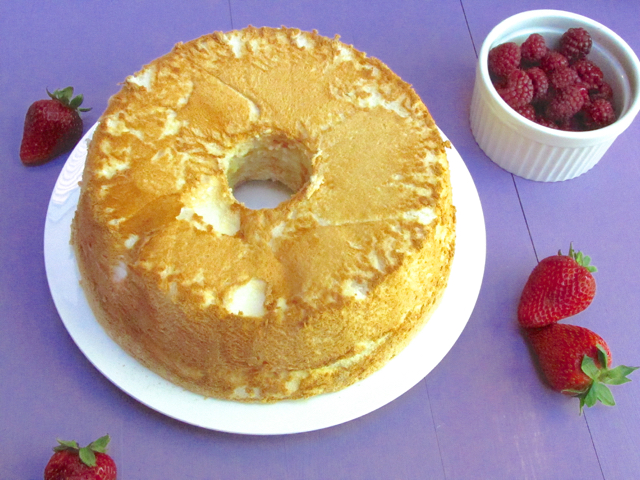 Angel food cake is one of my all-time favorite cakes. It is so light and fluffy. And it is totally awesome topped with whipped cream and fresh fruit. Or even a little caramel drizzle. Yum! In my mind it is a perfect summer dessert. Partly because berries are in season and it is nice to have a light dessert on a hot day. Especially after grilling.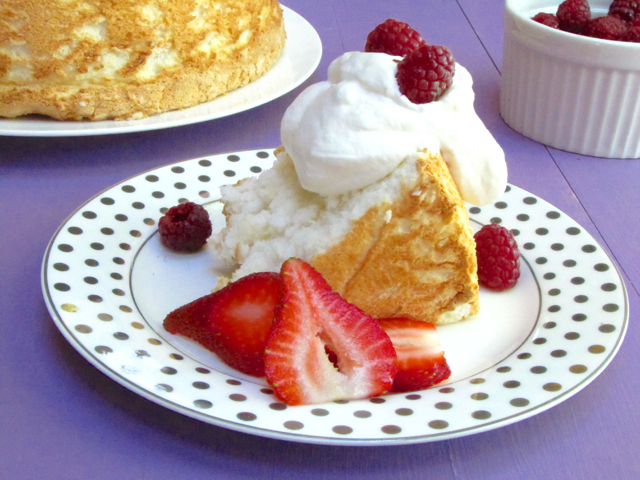 Don't be intimidated to make this cake. It's all about getting the egg whites whipped enough. They need to hold a nice stiff peak, as if you were making meringue. And make sure you let it cool completely before removing from the pan or else it will stick to the pan and look terrible. (I have made that mistake before!) Patience! It is so worth making this from scratch instead of out of a box. The perfect summer dessert.
---
Recipe from A Farmgirl's Dabbles
Angel Food Cake
This classic angel food cake is incredibly spongy, tender, light and airy. It's perfect served with softly whipped cream and fresh fruit for a light summer dessert.
Ingredients
1 1/2 cups powdered sugar
1 cup cake flour
1 1/2 cups egg whites (it is best to use fresh whites instead of egg beaters here)
1 1/2 teaspoons cream of tartar
1 cup granulated sugar
2 teaspoons vanilla extract
1/2 teaspoon almond extract
1/4 teaspoon salt
Instructions
Position oven rack to lowest position. Preheat oven to 375°F.

In a small bowl, whisk powdered sugar and flour together. Set aside.

In the bowl of a stand mixer fitted with the whisk attachment, beat egg whites and cream of tartar on medium speed until foamy. Make sure your bowl and beaters are clean and dry, as even a bit of grease or egg yolk will prevent egg whites from beating properly. Beat in granulated sugar on high speed, 2 tablespoons at a time, adding vanilla, almond extract and salt with the last addition of sugar. Continue beating until stiff and glossy and holds a peak, 4-7 minutes Do not underbeat.

Sprinkle sugar-flour mixture, 1/4 cup at a time, over meringue, gently folding in just until sugar-flour mixture disappears. Be careful not to over mix. Pour batter into an ungreased tube pan with a removable bottom (usually called an angel food cake pan), 10 x 4 inches. Cut gently through batter with a butter knife to even out.

Bake in the preheated oven for 30 to 35 minutes or until cracks in cake feel dry and top springs back when touched lightly. Immediately turn pan upside down onto a bottle neck (a wine bottle works well here) or metal funnel. (A cake that pulls away and/or falls out of the pan is under baked.)

Let hang about 2 hours or until cake is completely cool. Gently slide knife around the cake's edge and remove cake from pan. Serve with freshly whipped cream and fresh fruit if desired.