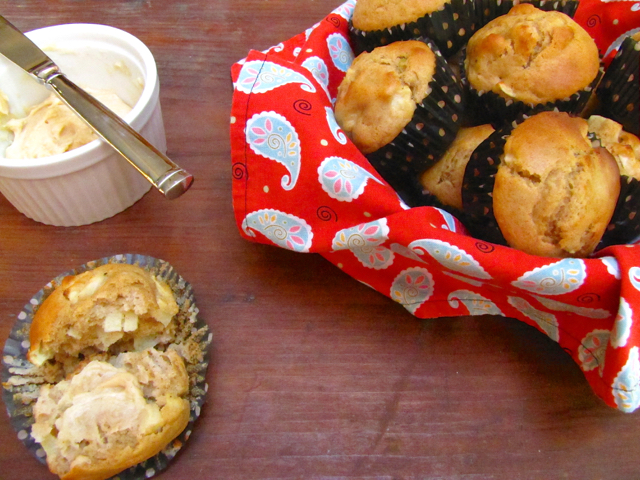 Muffins are one of my favorite breakfast treats. They are generally so easy to whip up when you first get up and have on the table in no time. My classic blueberry muffin is what is always requested, but I like to branch out occasionally and make something different (probably more often than my husband would like!).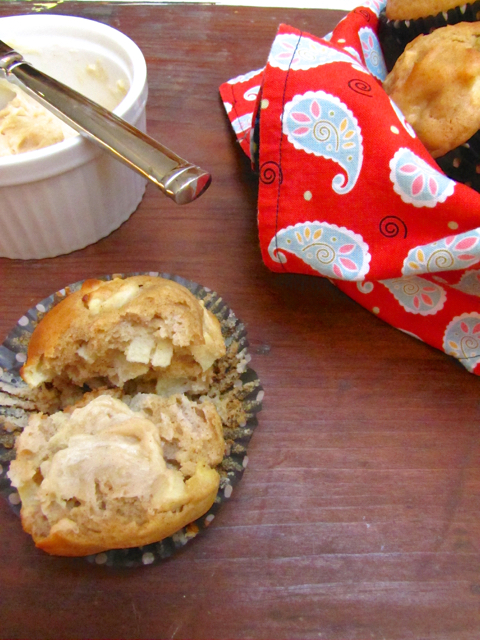 This apple muffins are super delish. They are moist, full of flavor with lovely apple chunks. They are even better with the cinnamon honey butter. These make a the perfect addition to any breakfast or brunch.
---
Recipe heavily adapted from Baking Magic by Kate Shirazi
Apple Muffins with Cinnamon Honey Butter
Tender and moist muffins packed with fresh apples and warm spices. Slathered while still warm with a sweetened and cinnamon-spiced butter makes for the best of breakfasts.
Ingredients
For the muffins
1 cup all-purpose flour
1 cup white whole wheat flour (or all-purpose)
1/2 teaspoon baking soda
1/2 teaspoon baking powder
1/4 teaspoon salt
1 1/4 teaspoons ground cinnamon
1/4 teaspoon ground nutmeg
2 large eggs, beaten
1/3 cup plain yogurt
1/2 cup milk
1/2 cup light brown sugar, packed
6 Tablespoons vegetable oil
2 apples, peeled, cored and finely chopped
For the cinnamon honey butter
1/2 cup butter, softened
1/2 cup honey
1 teaspoon ground cinnamon
Instructions
For the muffins; preheat the oven to 400ºF. Line a muffin pan.

Whisk the flours, baking soda, baking powder, salt, cinnamon, and nutmeg in a large bowl. In a separate bowl, whisk together the eggs, yogurt, milk, oil and brown sugar together until combined. Stir the egg mixture into the flour until all the flour is hydrated. Gently fold in the apples.

Scoop the batter into the prepared muffin pan, filling about 2/3 full.

Place in the preheated oven and bake for about 20 minutes, or until a toothpick inserted into the center comes out clean. Let cool in the pan for about 10 minutes before removing. Serve with the cinnamon honey butter.

Meanwhile, make the cinnamon honey butter; place butter in the bowl of a stand mixer. Beat on medium-high for two minutes. Add honey and cinnamon and beat for one minute longer. Store in the refrigerator.