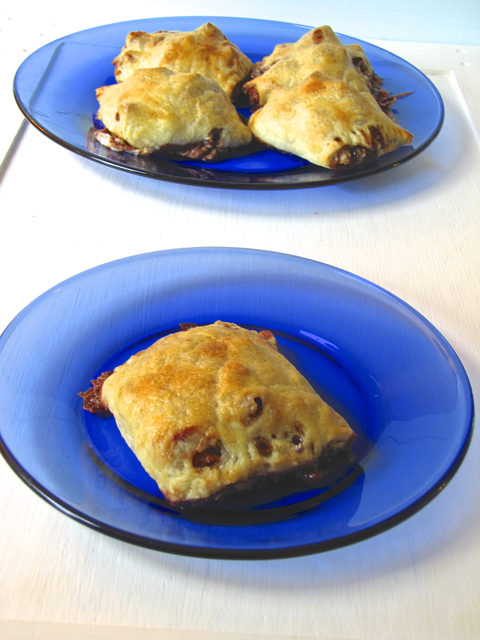 I have a sad confession to make (on my part), I have never used puff pastry before I made this recipe. For someone who has been baking up the whazoo for some time, that is a little embarrassing to admit. I guess I just never found a recipe that called to me to bake with it. And maybe I was a little intimidated by it? For some reason, I had the thought in my head that it was difficult to work with. Boy, was I wrong! I finally had to face my fears and skepticism when someone asked me to make apple turnovers for them.
Wow, I can't believe what I was missing. And I cannot believe I have not had an apple turnover before! (Where the heck have I been?) These are creamy, caramelized, mouthwatering amazingness. The buttery, flaky crust puts it over the top. The apple turnovers are wonderful on their own, but a topping of whipped cream or vanilla ice cream would send them over the top.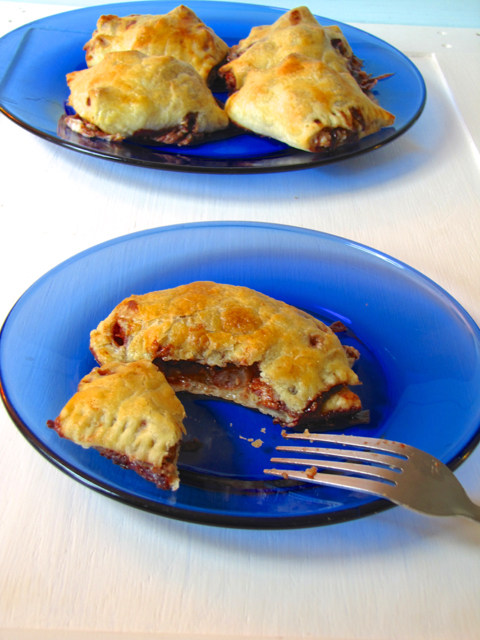 Just don't be like me and forget to cut a small slit in each of them before baking. I couldn't help it, I got excited!
---
Recipe adapted from Lily's Café Cookbook, Revised Edition by Kyra Alex
Apple Turnovers
These simple apple turnovers are filled with warm cinnamon and cream cheese. These are a fun fall dessert.
Ingredients
1 sheet of frozen puff pastry, thawed
3 oz. cream cheese, softened
2 Tablespoons granulated sugar
1/2 teaspoon vanilla extract
3 large apples, peeled, cored and thinly sliced
1/2 cup brown sugar
1 1/2 Tablespoons ground cinnamon
1 large egg
Instructions
Preheat the oven to 400ºF. Line a baking sheet with parchment paper or silpat. Set aside.

In a medium bowl, toss the apples with the brown sugar and cinnamon. Set aside.

In the bowl of a stand mixer, or a small bowl with a hand held mixer, beat the cream cheese, granulated sugar and vanilla extract together until smooth and creamy.

On a lightly floured surface, roll the puff pastry out to a rectangle approximately 15x17 inches. Cut the pastry into 8 equal pieces. Spread the cream cheese mixture over half of each piece of pastry. Distribute the apple mixture evenly over the spread cream cheese. Fold the other side of the puff pastry over the apple and cream cheese mixture to form a pocket. Seal with your fingers or the tines of a fork. Place each turnover onto prepared baking sheet.

Beat the egg with 1 tablespoon of water. Lightly brush each turnover top with the egg wash mixture. Cut a small slit in the center of each turnover for steam to escape. Place in the preheated oven and bake for 20-25 minutes until puffy and golden. Let cool slightly before removing from baking sheet and consuming. Serve warm with whipped cream or vanilla ice cream if desired.

These are best the day they are made, but can be kept well covered in the refrigerator up to 3 days. Reheat in the microwave or oven before serving.