A few days ago, my sister and I did a cheese night. Now that she is settled in their epic winter residence, we decided it was time to do another cheese night. We did one last year where the baked brie with blueberry compote was the highlight of the evening. It is a nice time to catch up without my kids, over excellent food. This year though, baby had to tag along since I am still exclusively breastfeeding. She just played on a blanket on the floor. She is only just rolling around, not mobile at all yet. I am fine with that! I like knowing that I can set her down and she'll still be there if I leave the room for a minute. And she can't talk yet, so there is no interrupting our conversation.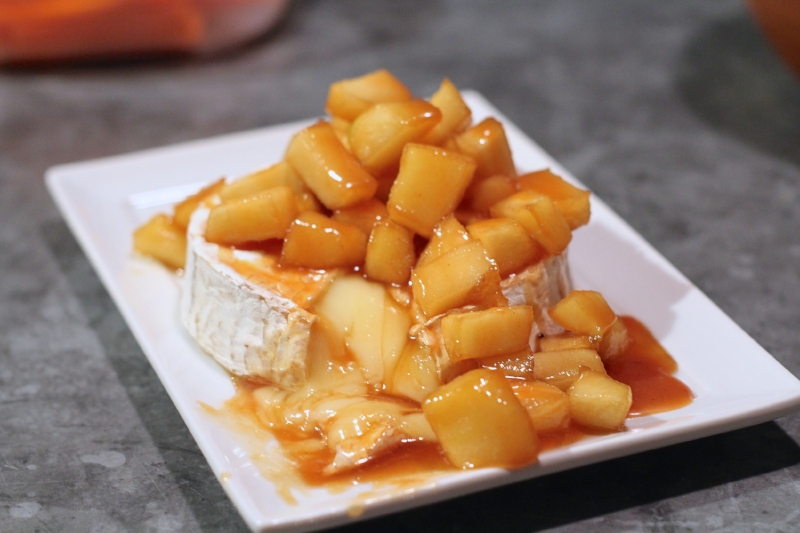 When I saw this recipe on my blogroll, I knew that I had to make it for our cheese night. With homemade caramel sauce, of course. This was so amazing. Definitely on the sweet side, but still so good. I ate more than my share of it.
Let me break this cheese down for you; first you bake the brie to make it warm and gooey-delicious. Then, you sauté some apples to make them soft and sweet. To serve, you spoon the apples over the baked brie then drizzle caramel over the top. We devoured the cheese with some lightly flavored fennel crackers. Need I say more?
---
Recipe adapted from Two Peas and Their Pod
Baked Brie with Apples and Caramel
This baked brie is gooey and warm and wonderfully sweet with sautéed apples and caramel sauce. It will be the envy of the appetizer table.
Ingredients
1 (15 oz.) wheel of brie
1 Tablespoon butter
1 large apple, peeled and chopped
2 Tablespoons light brown sugar
3 Tablespoons caramel sauce
Instructions
Preheat oven to 350ºF. Slice the rind off the top of the brie, leaving a 1/2-inch border along the edges. Place on a parchment-lined baking sheet. Bake for 10-12 minutes, or until the middle is soft.
While the brie is baking, melt the butter in a small saucepan. Add the chopped apples and brown sugar. Cook , stirring occasionally, until apples are soft, about 5 minutes.
Remove the brie from the oven and carefully move to a serving platter. Spoon the sautéed apples over the brie. Drizzle with caramel sauce. Serve immediately with plain or lightly seasoned crackers. (Carr crackers are an excellent choice.)