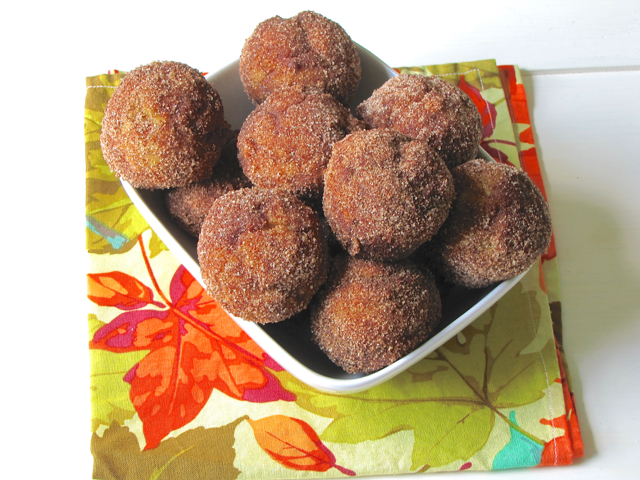 It's never too late to make pumpkin dishes, right? At least, that is how I feel about these "muffins". Thankfully they sell canned pumpkin year round. My favorite to use is organic, I feel the flavor is much better. I am not even that big a fan of pumpkin, but I can't resist these. They are moist, sweet and delicious. And they are so easy to whip up! They are wonderful alongside a hot cup of coffee. These are always a big hit in my house. I mean really, who can resist a muffin that has been coated with cinnamon sugar? I know I can't!
---
Recipe from Two Peas & Their Pod, originally from The Craving Chronicles
Baked Pumpkin Donut Holes
Yield:
about 24 donut holes
These baked donut holes are full of fall flavors with pumpkin and spice. Rolled in a cinnamon sugar coating, these make a great any time of the day treat.
Ingredients
For the donuts
1 3/4 cups all-purpose flour
2 teaspoons baking powder
1/2 teaspoon salt
1/2 teaspoons cinnamon
1/2 teaspoons nutmeg
1/2 teaspoon allspice
1/8 teaspoons ground cloves
1/3 cup canola oil
1/2 cup light brown sugar
1 large egg
1 teaspoon vanilla extract
3/4 cup canned pumpkin (not pumpkin pie filling)
1/2 cup milk
For the coating
4 Tablespoons unsalted butter, melted
2/3 cup granulated sugar
2 Tablespoons cinnamon
Instructions
Preheat oven 350ºF. Spray a 24-cup mini muffin tin with baking spray and set aside.

In a medium bowl, whisk together the flour, baking powder, salt, cinnamon, nutmeg, allspice, and cloves. In a separate, large bowl whisk together oil, brown sugar, egg, vanilla, pumpkin and milk until smooth. Add the dry ingredients to wet ingredients and mix until just combined.

Divide batter evenly among muffin cups. Bake for 10-12 minutes or until a toothpick comes out clean.

While the muffins bake, melt butter in one bowl and combine granulated sugar and cinnamon in another bowl. Remove muffins from oven and cool for 2 minutes. Dip each muffin in melted butter, then roll in cinnamon sugar to coat. Serve muffins warm or at room temperature.