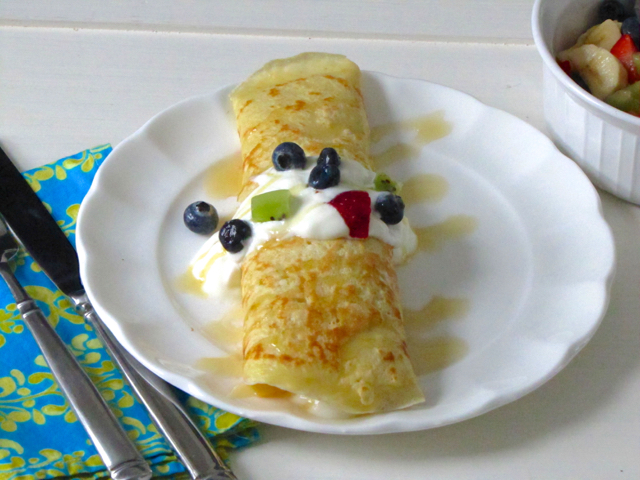 As you all probably know by now, breakfast is basically my favorite meal. Which is kind of funny because it's probably the meal I am the laziest with. Usually when I wake up, my blood sugar is pretty low, so I like to get some sort of food into me as soon as possible. The kids are same way. To make up for boring breakfasts, we will occasionally have breakfast dinners. Those are always fun! The kids get really excited about it. Since it is dinner, I try to incorporate at least one healthy thing so we aren't just eating maple syrup with pancakes or bacon. Sometimes it is simple as fruit, or eggs.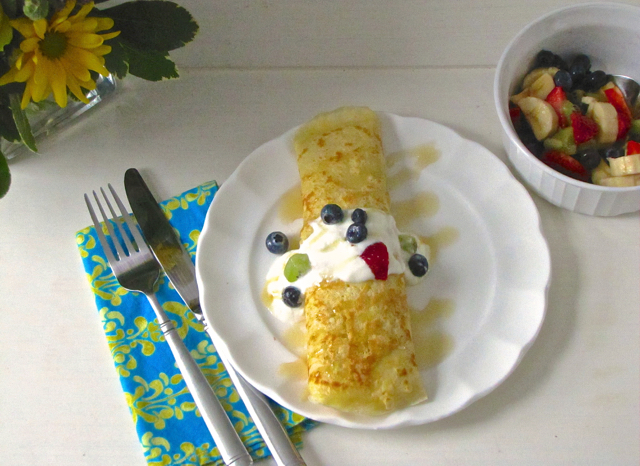 Crepes I would have to say, are my husband's favorite. We lived off these when we lived in Providence while I was in college and barely scraping by (pre-kids). A nice and cheap meal! My husband particularly likes to eat these with just brown sugar. (Ah!) For me, that is just too much sugar, so my favorite filling is yogurt with fruit and honey. If you don't have any fresh or frozen fruit on hand, jam is a great alternative. If you aren't familiar with crepes, they are sort of like a super thin pancake that you fill with sweet or savory ingredients. Very versatile, simple and delicious! Some restaurants offer crepes as a dessert option filled with ice cream, sauce and whipped cream. You can do whatever makes you happy!
---
Recipe adapted from Allrecipes.com
Basic Crepes
These crepes are easily thrown together for maximum flavor and filling ability. Make for dessert, or breakfast!
Ingredients
1 cup all-purpose flour
2 large eggs
3/4 teaspoon vanilla extract
1/2 cup milk
1/2 cup water
1/4 teaspoon salt
2 Tablespoons butter, melted and cooled
Filling options
yogurt, brown sugar, fresh fruit or frozen fruit thawed, jam, honey, ice cream, whipped cream etc.
Instructions
In a medium bowl, whisk together the flour, eggs and salt. Gradually add the milk, water and vanilla extract, stirring to combine. Add the butter and whisk until smooth.

Heat a large pan over medium-high heat. Grease with spray oil. Pour about 1/4 cup of the crepe batter into the pan. Tilt the pan in a circle to spread the batter out to make a thin crepe. Cook until the bottom is a light golden brown, 2-4 minutes. Flip and cook for another 2-4 minutes, until golden brown. Transfer to a plate. Continue the process until all the batter is gone.

Fill each crepe immediately before serving with desired filling, rolling up in jellyroll style. Serve warm or at room temperature.
Notes
Any leftover crepes can be frozen.