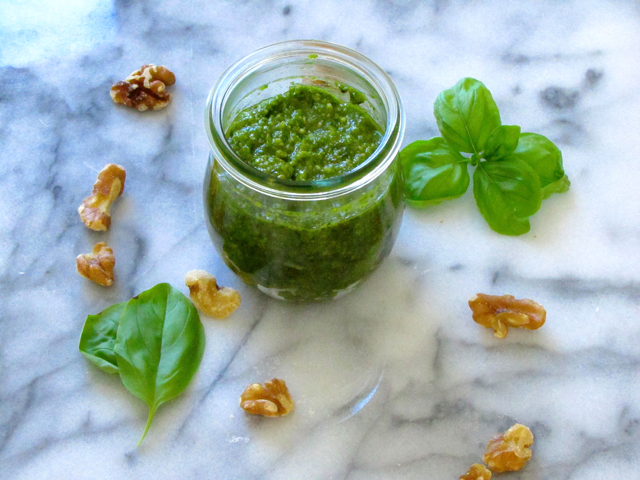 This pregnancy, I have been totally having out of the norm cravings. With my first two, I didn't crave a whole lot. Maybe just peppermint patties. But this time around, I have had these sudden urges to eat this or create that. So, a lot of the time I have been acting on these urges. This pesto was a spur of the moment craving. I wanted something green and tasty that I could add to a few dishes. (Those dishes will be coming soon, and trust me, you won't want to miss them!)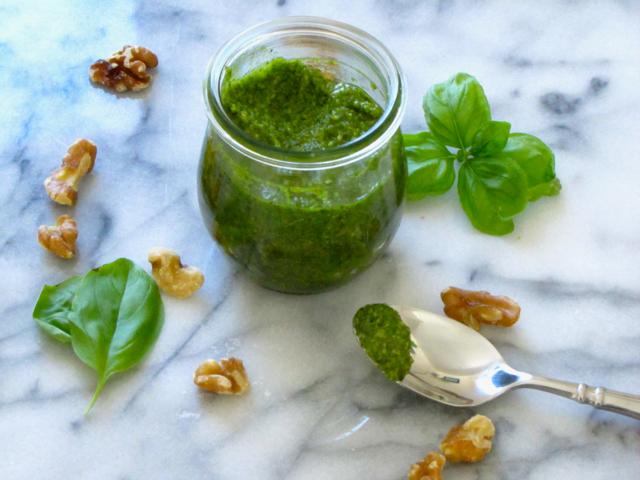 I haven't ever really been a pesto person, maybe because no one in my household really cares for it. I now realize what an amazing addition it is to so many dishes. It can make something drab and boring become beautiful and delicious! This pesto is very simple and it can be thrown together in minutes. If you have a lot left over that you don't know what to do with, you can spoon it into an ice cube tray and freeze! Once frozen, store in a ziplock bag and it will last for months in the freezer. Anything easy to freeze makes me happy!
---
Recipe adapted from Everyday Food: Great Food Fast by Martha Stewart
Basil Pesto
This homemade pesto is wonderfully fresh and packed with flavor. Perfect for slathering or stirring into any dish.
Ingredients
1/4 cup walnuts
2 cups loosely packed basil
1/4 cup freshly grated parmesan cheese
1 garlic clove
1/2 teaspoon salt
1/4 teaspoon pepper
1/4-1/3 cup olive oil
Instructions
In a food processor, combine the walnuts, basil, parmesan, garlic, salt and pepper. Process until finely chopped. With the machine running, pour 1/4 cup olive oil in a steady stream through the feed tube. Process until smooth. If the pesto looks a little dry, add more olive oil. Taste the pesto and adjust salt and pepper if necessary. Use immediately, or store in an air-tight container in the fridge for up to 2 weeks.