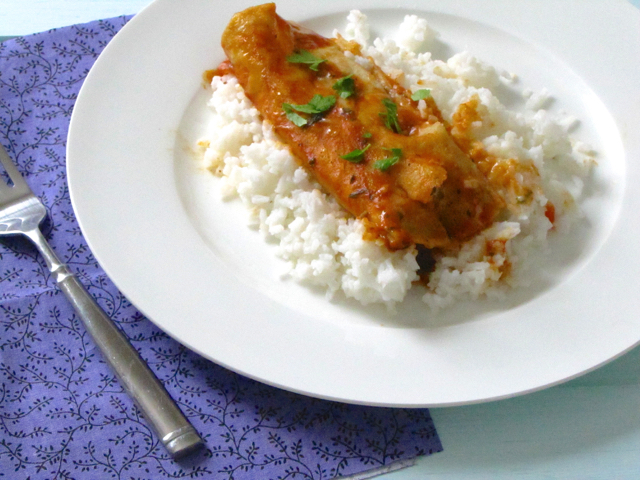 Don't run away from looking at the picture of these enchiladas! I know they aren't exactly breathtaking, but don't judge a book by its cover. These are amazing! I absolutely love them. Something about the corn tortillas wrapped around the delicious hamburger filling…. sigh.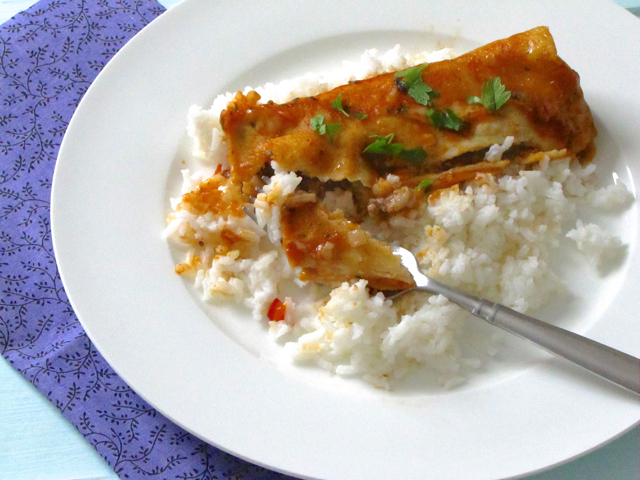 Just talking (writing?) about them makes me want to run into the kitchen and make them immediately. The Pioneer Woman knows how to cook her some beef! We always have more frozen hamburger from Old Ackley Farm than I know what to do with! This is a perfect way to use up some. This is a great dish to make for a crowd. It will feed many hungry mouths and make everyone happy at the same time!
---
Recipe adapted from The Pioneer Woman Cooks, by Ree Drummond
Beef Enchiladas
This wonderfully seasoned beef enchiladas are worth the work. They are incredibly satisfying, filling and wonderful when served over rice.
Ingredients
For the sauce
1 Tablespoon grapeseed, canola or vegetable oil
2 Tablespoons all-purpose flour
1 (28 oz.) can enchilada or Mexican red sauce
2 cups chicken broth
1/2 teaspoon salt
1/2 teaspoon pepper
2 Tablespoons chopped parsley
For the meat
1 pound ground hamburger
1 medium onion, finely chopped
2 (4 oz.) cans diced green chilies
1/2 teaspoon salt
Remaining ingredients
10-14 corn tortillas
1 cup chopped green onions
3 cups grated cheddar cheese
parsley
Instructions
In a saucepan over medium-low heat, combine the oil and flour. Whisk together and allow to bubble for 1 minute. Pour in the enchilada sauce, chicken broth, salt and pepper. Bring to a boil. Reduce the heat, and let simmer while preparing the other ingredients.

While the sauce is simmering, brown the hamburger with the onion in a large skillet over medium-high heat. Drain any fat, then add the green chilies and salt. Stir to combine. Turn off the heat and set aside.

Preheat the oven to 350ºF. In a 9x13 baking dish, spread 1/2 cup of the sauce over the bottom.

Place the tortillas on a plate and cover tightly with plastic wrap. Microwave for about 30 seconds, or until soft and pliable. Dip each tortilla into the sauce. Set the tortillas on a cookie sheet (less clean up later!). Spoon the hamburger mixture and green onions into the center of each tortilla. Top the mixture with a generous amount of cheese. Gently roll up the tortilla and place seam-side down in the baking dish. Repeat with the remaining tortillas, but saving enough cheese to top the tortillas with.

Stir the parsley into the sauce and pour the remaining sauce in the pan over the top of the tortillas. Evenly sprinkle the remaining cheddar cheese over the top of the tortillas.

Bake, uncovered for 20-25 minutes, or until the sauce is bubbly. Sprinkle extra chopped parsley over the top for garnish. Serve alongside rice or beans. (Or both!)