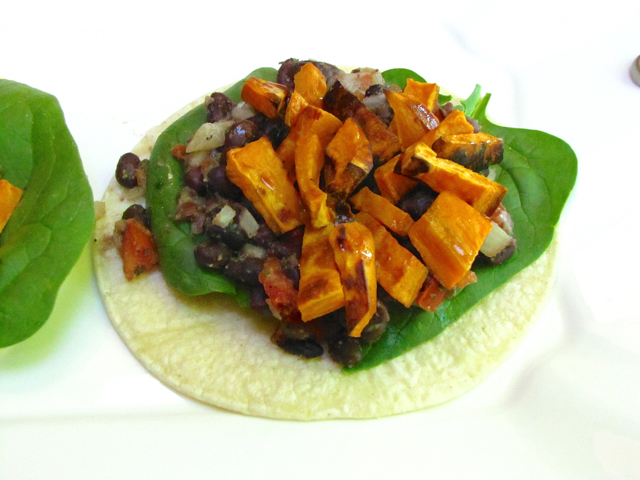 Sweet potatoes seem to be my new favorite vegetable. Something about them baked is irresistible to me. Warm, soft, yet a little crispy, and full of flavor (and really good vitamins!), I can't get enough!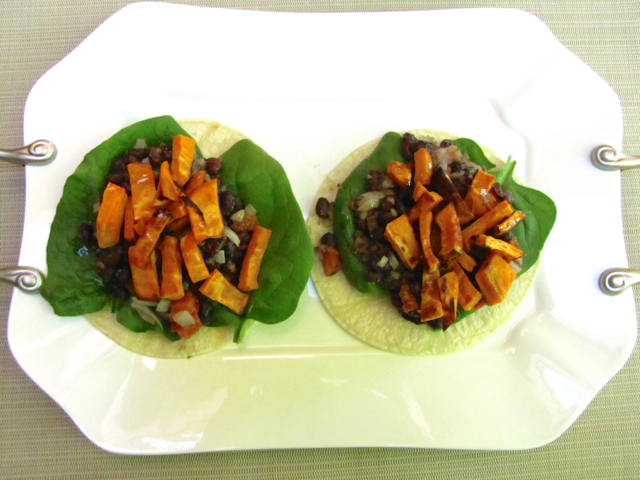 These tostadas are a wonderful way to get a bunch of really healthy things for you into one meal. And it's filling to boot! This makes a great healthy, tasty lunch or dinner. Be prepared for it to be messy, but that's all part of the fun of eating! I like to fold them slightly and pick them up to eat them. My daughter liked hers cut up. Whatever floats your boat!
---
Recipe adapted from Two Peas and Their Pod
Black Bean and Sweet Potato Tostadas
Cook Time:
1 hour
5 minutes
Total Time:
1 hour
20 minutes
These healthy and filling tostadas are filled with black beans, roasted sweet potatoes and spinach. A lovely lunch or dinner any time of the year.
Ingredients
2 large sweet potatoes, washed, peeled, and cut into small cubes
Drizzle of olive oil
Salt and pepper, to taste
1 Tablespoon vegetable or grapeseed oil
8 large spinach leaves
4 corn tortillas
1 can black beans, rinsed and drained
1/2 medium onion, diced
1/4 cup chopped parsley
1 avocado, diced
Shredded cheese (optional)
Salsa or hot sauce (optional)
Instructions
Preheat oven to 400ºF. Place sweet potato cubes on a large baking sheet. Lightly drizzle with olive oil and toss. Season with salt and pepper. Roast in the oven for 40-45 minutes or until sweet potatoes are soft and tender. Stir a couple of times while they are roasting.

In a small skillet, heat 1 tablespoon oil until shimmering over medium heat. Stir in the black beans and onion. Cook, stirring occasionally, until the onions are softened the black beans are heated through, 8-10 minutes.

In a non-stick skillet, heat corn tortillas over medium-high heat. When tortillas start to bubble up, flip and heat the other side until golden brown, about 30 seconds for each side. Transfer to a serving plate.

Top each heated tortilla with two spinach leaves, sweet potatoes, black beans, onions, avocado and parsley. Season with salt and pepper to taste, and any other optional ingredients. Serve warm.