I know, this is more like a summer dish, but I couldn't resist. With all this crazy sweet consumption happening, I have been trying to make dinners particularly healthy. I have had this recipe bookmarked for ages, and it fit the bill for one meatless option for the weeks menu. Even though vegetables are not in season right now, this was still bursting with flavor and so addicting. I may have sat down with the bowl for lunch the following two days and eaten it all by myself. With my favorite blue corn chips, of course.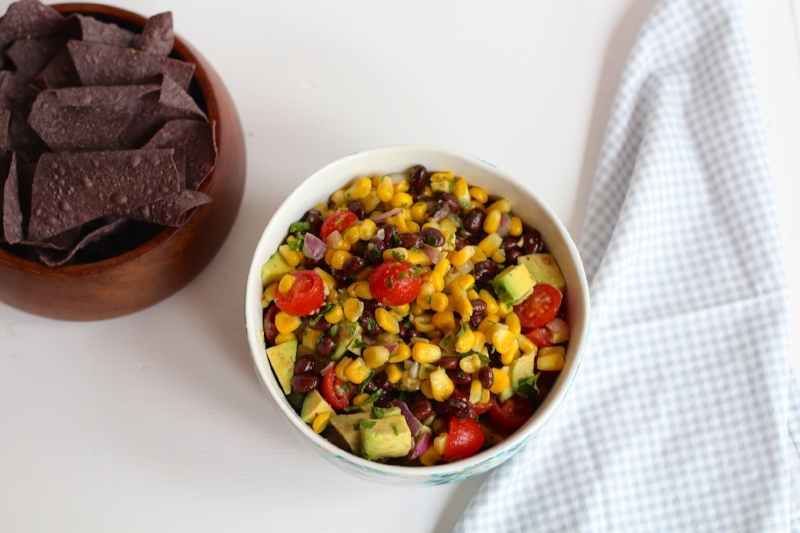 My husband is not a huge avocado fan, but he still really liked this. I served this over grilled chicken (yes, I still grill in the winter. Especially since there is no snow on the ground right now), and it was killer! I would definitely recommend doing that! Then of course, you can eat any leftovers with chips. This is a wonderful, healthy and quick option for any meal or snack!
---
Recipe adapted from Annie's Eats
Black Bean, Corn and Avocado Salad
This mixture is fabulous with chips or spooned over chicken. Either way, with the creamy avocados and fresh tomatoes, corn and black beans, this salad will become your new addiction.
Ingredients
1 (15 oz. can) black beans, drained and rinsed
1 small red onion, diced
2 avocados, pitted and cubed
2 cups fresh corn kernels, or frozen and thawed corn
1 pint cherry or grape tomatoes, halved or quartered
juice of 2 limes
2 teaspoons olive oil
3/4-1 teaspoon kosher salt
1/2 cup fresh parsley, chopped
Instructions
In a large bowl, combine the beans, red onion, avocado, corn, and tomatoes. Add in the lime juice, olive oil, and salt, and gently toss to blend. Gently mix in the parsley. Serve chilled or at room temperature.