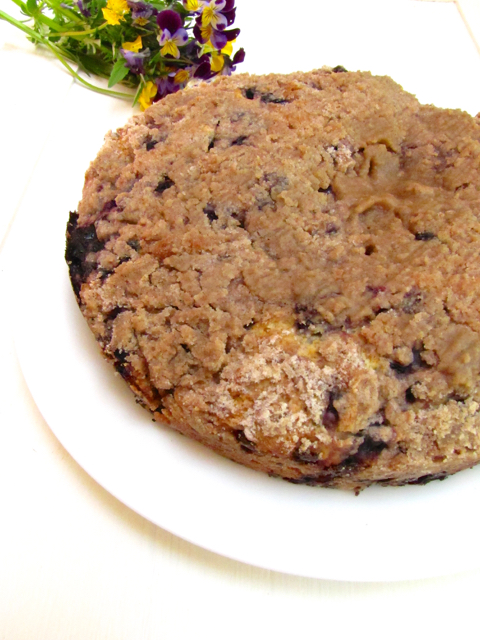 It's blueberry season! Living in rural Maine, I am surrounded by blueberry fields. Driving just 30 minutes to where I go grocery shopping, I pass several fields. There are some fields that the local companies don't really harvest, so the public is welcome to pick. But, there is always an influx of local and/or organic blueberries for sale in the stores if you don't want to pick! What I also love is the local big company that harvests blueberries stock piles blueberries and freezes them in 10 lb. and 30 lb. boxes that you can purchase year round. I always have a 10 lb. box in my freezer to cook with or just to have over cereal in the mornings! The kids always request blueberries.
This coffee cake is a welcome addition to any breakfast or brunch! Or for dessert with a dollop of whipped cream. It's moist and bursting with blueberries. And who doesn't love a streusel topping?
---
Recipe from King Arthur Flour
Blueberry Buckle Coffee Cake
Tender blueberry cake topped with a crunchy, sweet topping that is a perfect treat for any time of the day.
Ingredients
For the streusel topping
1/3 cup sugar
1/2 cup unbleached all-purpose flour
1 teaspoon ground cinnamon
1/8 teaspoon salt
1/4 cup (4 Tablespoons) butter
For the cake
2 cups unbleached all-purpose flour
2 teaspoons baking powder
1/2 teaspoon salt
3/4 cup sugar
1/4 cup (4 tablespoons) butter
1 large egg
1 teaspoon vanilla extract
1/2 cup milk
2 cups fresh or frozen blueberries
Instructions
Preheat the oven to 375ºF. Lightly grease a 9-inch round cake pan. If you use a round pan, make sure it's at least 2" deep.

To make the topping: Whisk the sugar, flour, cinnamon, and salt in a small bowl. Cut or rub in the butter with a pastry blender or your finger tips until crumbly. Set aside.

Blend the flour, baking powder, and salt together in a medium-sized mixing bowl. In a separate bowl, beat together the sugar, butter, egg, and vanilla.

Alternately add the milk and the flour mixture to the sugar/butter mixture, ending with flour. Add blueberries. Stir only enough to blend.

Pour the batter into the prepared pan. Sprinkle the topping over the batter.

Bake the cake for 40 to 45 minutes, or until a toothpick or knife inserted into the center comes out clean. Remove the cake from the oven, and set it on a rack to cool for 10 minutes. Serve right from the pan. Or, to transfer to a serving plate, Loosen the sides with a knife or spatula. Holding the pan in your left hand, gently tip the cake out onto your right hand, remove the pan, and gently right the cake onto a serving dish.