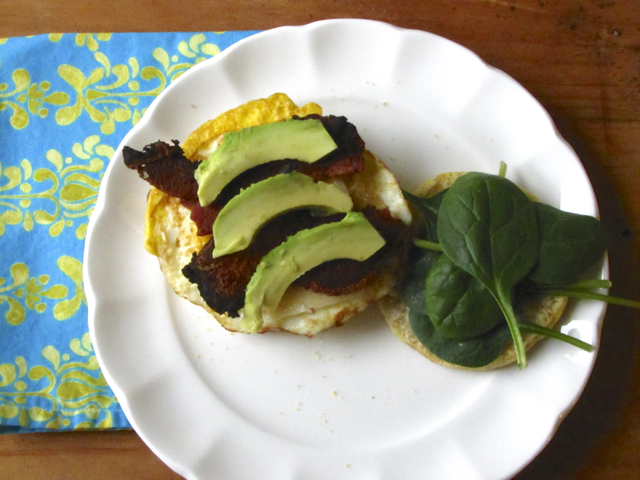 So, breakfast has been basically my favorite meal since I was a kid. At least, it was always my favorite to go out and eat. But, as life gets busier and busier, I don't have a lot of time to get an exciting breakfast on the table. My week days are so busy getting the kids and myself fed, dressed and out the door that cereal is usually our daily meal. Pretty boring if you ask me! So, on the weekends, particularly Sunday, I try to change it up.
Breakfast sandwiches are something that I have never had interest in. They always look really unappealing to me in restaurants. So, I had the brilliant idea to make my own! I have been wanting to make english muffins for a while (recipe to come). So, I thought, what better to make them and have breakfast sandwiches! Oh my. I swear I could have eaten like five of those sandwiches. I made one for my husband and he couldn't get over how good they were. Talk about addicting!
The flavor combination was killer. I could see myself eating these daily if I would allow it. Make these today and you won't regret it. It will definitely add a little jump to your morning.
---
Island Bakes Original
Breakfast Sandwich for One
A simple, yet fabulous breakfast sandwich that will become your new favorite!
Ingredients
1 english muffin, store bought or homemade
2 pieces cooked bacon, broken in half
1 large egg
3 slices avocado
1/4 cup baby spinach
2 slices cheddar cheese
1/4 teaspoon garlic powder
1/4 teaspoon salt
1/4 teaspoon pepper
Instructions
Slice the english muffin into two pieces. Toast in a toaster until light golden brown.

While the muffin is toasting, place a small saucepan over medium-high heat. Spray or lightly oil the pan. Crack the egg into the heated pan. Cook, without stirring until the bottom is lightly browned, about 3-5 minutes, making sure to break the yolk after about 2 minutes of cooking.* Sprinkle the garlic powder, salt and pepper over the egg. Flip the egg and cook until the bottom is lightly browned. Once cooked, turn off the heat. Time to assemble the sandwich!

To assemble the sandwich, place the cooked egg on the bottom slice of the english muffin. Then, place the slices of cheddar cheese on top of the egg, then the bacon, avocado slices, spinach and then finish with the top half of the english muffin Enjoy!
Notes
*I like my eggs without runny yolks, but if you prefer otherwise, cook for less time.
* This recipe can easily be increased for any amount of servings desired.