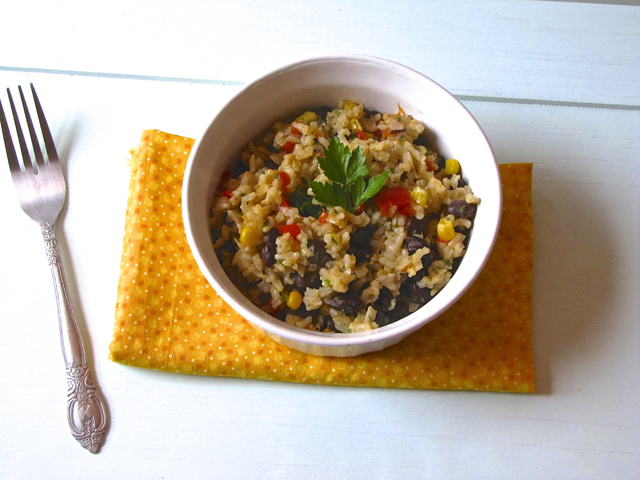 I always love meals where everything is in one dish. It makes it so simple. No chopping forever for a salad, or sitting in front of the stove top to make a veggie side dish. Don't get me wrong, I do enjoy time involved and occasionally complicated meals. But, sometimes it's really nice to have a quick simple meal. Especially when I know that baby will be waking up any moment, or the two older kids are about to come blasting through the house demanding my attention now that they are tired of being outside. This meal allows me to sit back and listen to all the qualms of the two older kids and feed the baby. A quick prep on the stovetop then throw it into the oven and let the oven do all the cooking. A perfect weeknight meal!
This rice dish is particularly tasty. Black beans and brown rice make it a healthy option, and quite filling. I like to serve this with soy sauce because we are all sort of obsessed with rice and soy sauce. It does add some extra flavor that I think is worth it. That is up to you.
---
Recipe lightly adapted from Annie's Eats, originally from Cook's Illustrated
Brown Rice with Black Beans
Cook Time:
1 hour
35 minutes
Total Time:
1 hour
45 minutes
This healthy, hearty dish is filled with brown rice, black beans, corn and seasonings. It's great as a stand alone meal, or as a side dish.
Ingredients
4 teaspoons olive oil
1 cup onion, chopped fine
1 red bell pepper, chopped fine
3 cloves garlic, minced
1 cup low-sodium chicken or vegetable broth
2 1/4 cups water
1 1/2 cups long-grain brown rice
1 teaspoon salt
1-2 (15 oz.) cans black beans, drained and rinsed
3/4 cup corn kernels (fresh from cob, or frozen and thawed)
1/4 cup chopped fresh parsley
1/4 teaspoon ground black pepper
Instructions
Preheat the oven to 375° F. Adjust an oven rack to the middle position. Heat the oil in a large Dutch oven over medium heat until shimmering. Add the onion and bell pepper to the pan and cook, stirring occasionally, until well browned and tender, about 12-14 minutes. Stir in the garlic and cook just until fragrant, about 30 seconds.

Add the chicken broth and water to the pan. Bring the mixture to a boil. Remove the pot from the heat, stir in the rice and salt, and cover. Bake until the rice is tender, 65-70 minutes.

Remove the pot from the oven and uncover. Fluff the rice with a fork, stir in the beans and corn, and replace the lid. Let stand for 5 minutes. Mix in the parsley and black pepper. Serve.