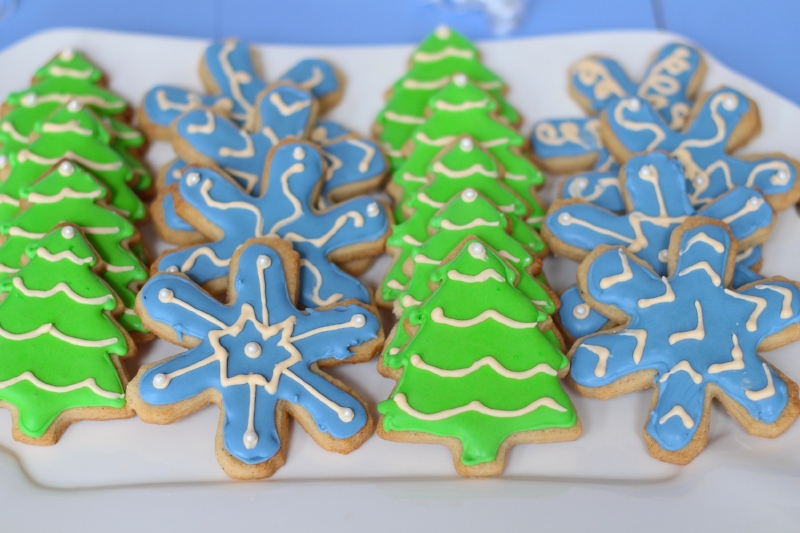 This year, I seem to be having a hard time getting into the holiday spirit. I have been listening to Christmas music almost daily and eating lots of holiday goodies. I strung up some lights, made some decorations with the kids, and this past weekend, we got our tree from the woods and decorated it. But still, something feels like it's missing. Perhaps it's the lack of snow, and the temperature fluctuations that has gotten me confused. We had a white Thanksgiving, but it looks like we may be having a brown and drab Christmas. I think northern Maine is getting all of our snow. It's funny how a white Christmas can seem so magical, especially when you are a kid. Oh well!
To indulge in the Christmas spirit, I knew that I had to share these cookies with you. They are my all-time favorite cut-out cookie. They are super easy, and super delicious. And no chilling time! The spices are just the right amount to make your taste buds happy. I have been eating way too many of these. Three days and counting, and they are still as good as the day I made them! I love to decorate them with royal icing. Although, I am still getting the hang of it. It doesn't help that I had to rush this time because baby decided she wanted me to hold her most of the afternoon instead of accomplishing the things I needed to do. But hey, that's part of being a parent! These cookies can be decorated with whatever frosting you desire. Or eaten plain! These would make wonderful addition to your holiday gift bag, if you do that sort of thing. They are sturdy, yet moist, and they keep very well. They would probably be shippable as well!
---
Recipe from Bake at 350
Brown Sugar and Spice Cookies
Yield:
about 2 dozen cookies
These sugar cookies are perfectly spiced and sweet. They are soft and chewy cookies that are perfect for decorating.
Ingredients
3 cups unbleached all-purpose flour
2 teaspoons baking powder
1/2 teaspoon cinnamon
1/4 teaspoon ground ginger
1/8 teaspoon nutmeg
1/8 teaspoon allspice
1/2 cup granulated sugar
1/2 cup light brown sugar, packed
1 cup (2 sticks) unsalted butter, at room temperature
1 large egg
1 teaspoon vanilla extract
Instructions
Preheat oven to 350ºF. Line two baking sheets with parchment paper or a silicone baking mat. Set aside.

In a large bowl, whisk together the flour, baking powder, cinnamon, ginger, nutmeg, and allspice.

In the bowl of a stand mixer fitted with the paddle attachment, cream the brown sugar, granulated sugar and butter together until smooth and creamy, 2-3 minutes on medium speed. Mix in the egg and vanilla extract until blended. On low speed, slowly add in the flour mixture. Mix until completely combined.

Place the dough onto a lightly floured surface. Roll out to 1/4-inch thick. Cut out desired shapes and place on prepared baking sheets. Bake in the preheated oven for 10-12 minutes, making sure not to over-brown the cookies, or they will become crispy. Let cool completely before decorating as desired.