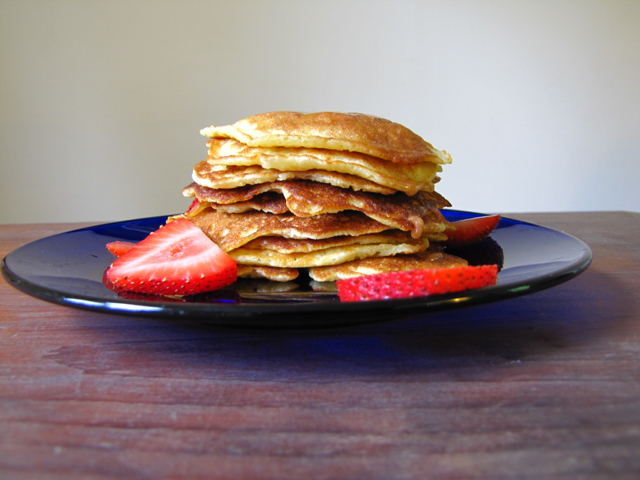 I have been on a bit of a breakfast kick lately, couldn't you tell? I have to admit that these are my all-time favorite pancakes. I honestly rarely make any other kind. They are amazing plain, with syrup, fruit cooked in… you name it! Now, this cinnamon honey butter definitely puts them over the top. I just wanted to keep eating and eating, barely resisting scooping the butter out with a spoon.
Needless to say, these pancakes should be, need to be, in your upcoming Sunday breakfast! Or maybe a breakfast dinner? Yes! I love those. Once you have these, you'll wonder why you've been eating boring pancakes all your life. Go make them and be happy!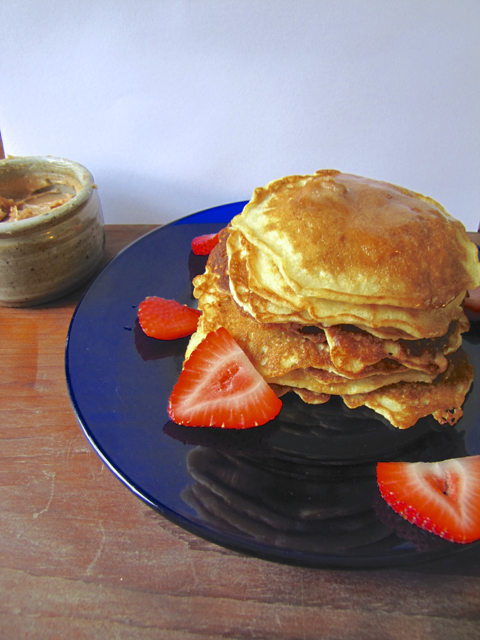 ---
Recipe for the buttermilk pancakes from Lily's House and cinnamon honey butter from A Farmgirl's Dabbles
Buttermilk Pancakes with Cinnamon Honey Butter
Yield:
about a dozen pancakes
The only pancakes I ever make. Wonderfully flavored, light and fluffy. These are perfect alone, with the cinnamon honey butter or maple syrup.
Ingredients
For the butter
1/2 cup butter, softened
1/2 cup honey
1 teaspoon ground cinnamon
For the pancakes
6 Tablespoons unsalted butter, melted
2 cups buttermilk
2 eggs
1 teaspoon vanilla extract
1 1/2 cups all-purpose flour
2 teaspoons baking soda
1 teaspoon salt
Instructions
To make the butter, place butter in the bowl of a stand mixer. Beat on medium-high for two minutes. Add honey and cinnamon and beat for one minute longer. Store in the refrigerator.

To make the pancakes, in a medium bowl, whisk together the melted butter and buttermilk. Whisk in the eggs and vanilla extract.

In a separate bowl, whisk together the flour, baking soda and salt. Stir the dry ingredients into the buttermilk mixture until fully incorporated.

Heat a non-stick skillet over medium-high heat. Pour about a 1/4 cup per pancake onto the heated skillet. If adding fresh or frozen fruit to the pancakes, sprinkle on top of the uncooked pancakes. Cook until bubbles start to form, and the bottom is lightly brown. Flip over and cook until the bottom is lightly brown. Serve warm with cinnamon honey butter, or desired toppings.
Notes
The butter recipe can easily be halved or doubled to your liking.