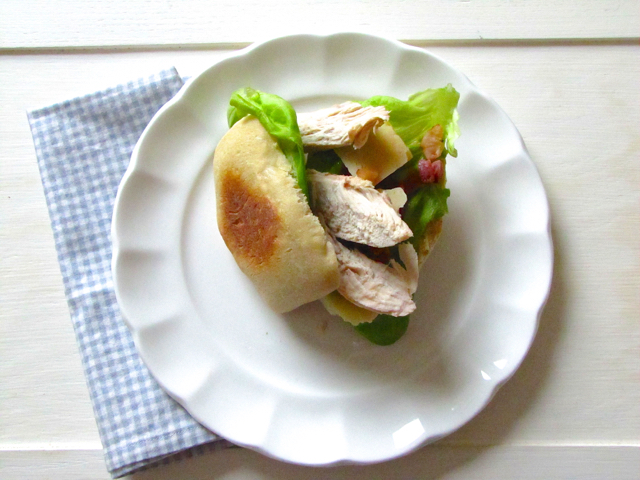 Caesar salads are probably one of my favorites. They are simple, tasty and always seem to hit the spot. Especially when I make my own dressing. When I saw this recipe, I knew that I had to make it immediately. I mean really, how could you go wrong with a caesar salad sandwich!?
These sandwiches were awesome! I decided to make my own bread (recipe to come), which put it over the top. I made a couple of changes to the original recipe, due to personal likes and dislikes. We had an afternoon of felling trees and piling brush, and so I made these for everyone and wrapped them in tin foil alongside chocolate chip cookies. Everyone was very happy! These are easy to make up ahead of time and take on a picnic. I look forward to making these again soon!
---
Recipe adapted from Barefoot Contessa at Home by Ina Garten
Caesar Club Sandwich
Cook Time:
1 hour
10 minutes
Total Time:
1 hour
25 minutes
Your favorite caesar salad is now in a sandwich! With tender chicken, sun dried tomatoes and a simple dressing- this will become your new favorite sandwich.
Ingredients
2 split chicken breasts, bone in and skin on
olive or grapeseed oil
salt and pepper
4 ounces thinly sliced pancetta (or bacon)
1 large garlic clove, chopped
2 Tablespoons chopped fresh parsley
1 teaspoon mustard
1 1/2 Tablespoons lemon juice
1/2 cup mayonnaise
1 large ciabatta bread or Italian rolls
2 ounces fresh baby spinach or romaine lettuce
12 oil packed sun-dried tomatoes
2-3 ounces shaved Parmesan
Instructions
Preheat the oven to 350ºF.

Place the chicken breasts on a sheet pan lined in tin foil, skin side up. Rub the chicken with olive or grapeseed oil and sprinkle with salt and pepper. Place in the oven and roast for 35-40 minutes, or until cooked through. Let cool slightly, then discard the skin and bones, and slice the meat thickly. Set aside.

Meanwhile, place the pancetta on another sheet pan in a single layer. Roast for 10-15 minutes, until crisp. Set aside on paper towels to drain.

To make the dressing, place the garlic and parsley in the bowl of a food processor, and process until minced. Add the mustard, lemon juice and mayonnaise and process again until smooth.

Slice the ciabatta in half horizontally and separate the top from the bottom. Toast the bread in the oven (optional) for 5-7 minutes until slightly crispy. Spread the cut sides of the bread with the dressing. Place half the spinach on the bottom piece of the bread and then layer in order: sun-dried tomatoes, shaved Parmesan, crispy pancetta and sliced chicken. Sprinkle with salt and pepper and finish with another layer of spinach. Slice the sandwich into thirds and serve.