So, for some reason, I only recently discovered my like of chai flavored things. I made those chai spiced waffles and totally loved them. So, when I saw a recipe for chai-spiced pound cake in a King Arthur Flour magazine that occasionally graces my mailbox, I knew that I just had to try it.
I was not disappointed. It was light, perfectly spiced and slightly sweet. I really like the addition of honey instead of all sugar. I opted to serve this cake with freshly whipped cream and a dash of ground cinnamon. Although, this is something you could totally get away with serving with midday tea or coffee! It keeps well in the refrigerator if you wrap it well. This is a great year-round treat.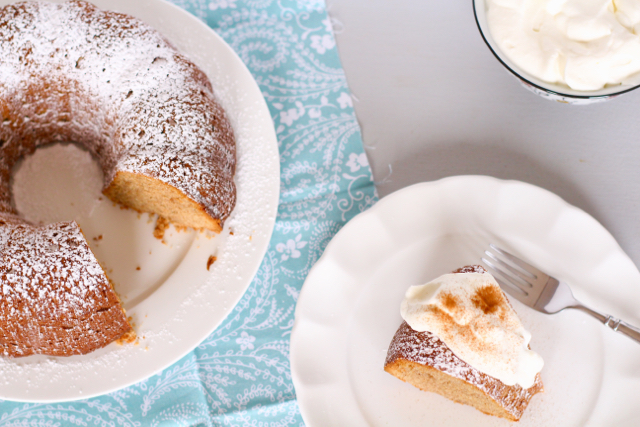 ---
Recipe from King Arthur Flour Magazine
Chai-Spiced Pound Cake
Total Time:
1 hour
3 minutes
This moist cake is filled with warm spices. It's perfect with a dusting of confectioners' sugar and a dollop of whipped cream. Serve as dessert or with an afternoon cup of coffee/tea.
Ingredients
1 cup (2 sticks), unsalted butter, softened
1 cup packed light brown sugar
1/4 cup honey
2 large eggs
1 teaspoon baking powder
1/2 teaspoon baking soda
1 teaspoon salt
2 teaspoons ground cinnamon
2 teaspoons ground ginger
2 teaspoons cardamom
2 teaspoons ground cloves
2 cups all-purpose flour
1 cup sour cream
2 teaspoons vanilla extract
confectioners' sugar, fresh whipped cream, for serving (optional)
Instructions
Preheat the oven to 350°F. Grease a 9 or 10-cup bundt pan. Set aside.

In the bowl of a stand mixer fitted with the paddle attachment, beat together the butter, brown sugar and honey until light and fluffy. Add the eggs, one at a time, beating well between additions. Scrape the bowl if necessary. With the mixer on slow, mix in the baking powder, baking soda, salt, cinnamon, ginger, cardamom and cloves. With the mixer still on slow, add in half of the flour, then the sour cream and vanilla extract, then the remaining flour. Mix until everything is well combined.

Pour the batter into the prepared pan and level out the top. Place in the oven and bake for 50-55 minutes, or until a toothpick or butter knife inserted in the center comes out clean. Remove from the oven and let cool for 15 minutes before turning it out onto a rack. Let cool completely before dusting with confectioners' sugar (optional), and slicing and serving. Wrap well in plastic wrap and refrigerate leftovers.