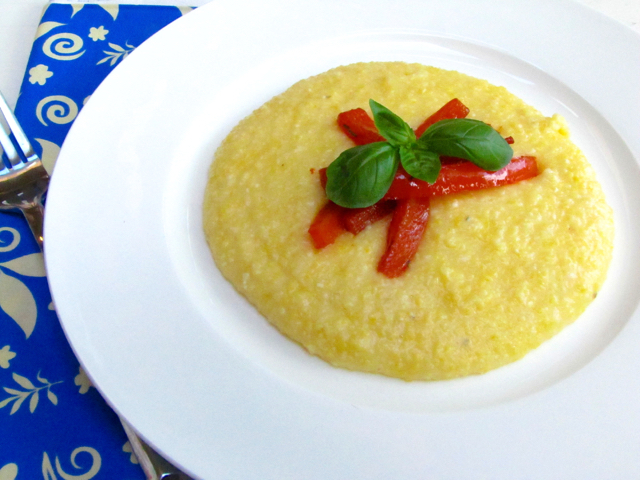 Polenta is something I rather enjoy, but don't make very often. Mostly because I am the only one that will really eat it. My daughter will sometimes, depending on her mood. I never had polenta until Kyra had me try some one evening it was on the menu and I was working, many years ago now. It is so good just on it's own, or fried up with sauce. You name it!
This particular recipe was delicious. It was creamy and cheesy, just the way it should be! The caramelized red peppers add a lovely side flavor. Serve this alongside a salad and you are in business!
---
Recipe from Lily's House
Cheesy Polenta with Caramelized Red Peppers
Total Time:
1 hour
10 minutes
Creamy polenta topped with caramelized red peppers. This filling meal is simple and perfect for a lovely dinner.
Ingredients
For the polenta
5 cups cold water
1 Tablespoon kosher salt
1 cup polenta (corn grits)
3 Tablespoons unsalted butter
1 heaping cup grated cheddar cheese
For the red peppers
3 red bell peppers, cored, seeded and cut into thin strips
1 Tablespoon balsamic vinegar
1 pinch of red pepper flakes
2 Tablespoons fresh basil leaves, julienned
kosher salt to taste
Instructions
To make the polenta, place your water and salt into a heavy bottomed sauce pan. Bring to a boil and slowly whisk in your polenta. Continue whisking until it comes back to a boil. Turn your heat down to a gentle simmer and let it cook until thick and creamy - this takes about 30 minutes, stirring quite frequently

When it is almost done add your butter and cheese, stir until blended and cook for another few minutes.

Meanwhile, make the peppers. H

eat a few tablespoons of grapeseed oil in a sauté pan over medium-low heat. Add the peppers and season with kosher salt

Let them melt and brown in your pan over med-low heat until they are very soft and caramelized, stirring occasionally. This will take about 30 minutes. Towards the end of cooking, season them with some red pepper flakes and the balsamic vinegar. When they are done, turn off the heat, toss the fresh basil in and adjust your salt if necessary.

Dish the polenta into serving dishes and garnish with red peppers and additional fresh basil.