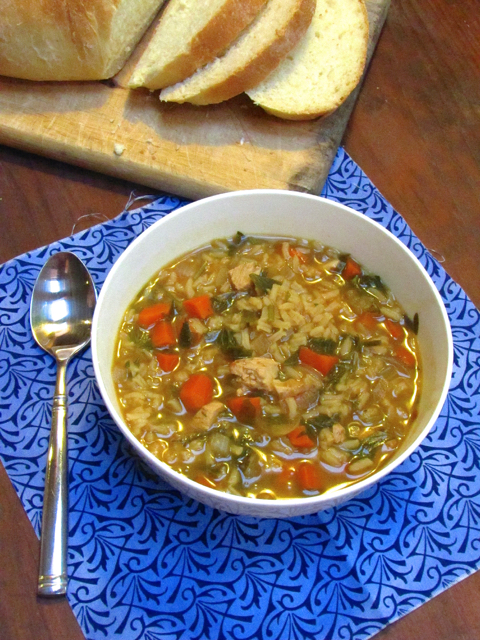 Last week, my husband was feeling a little under the weather. And the nights have become much cooler. It was 42º when I got up this morning! Fall is definitely here. So, to remedy a tired, not-feeling-so-great husband, and cooler evenings, I decided to make a soup. What is more comforting than chicken and rice soup? Maybe only having delicious homemade sourdough bread to dip into it. (I promise to share that recipe soon. And trust me, you don't want to miss it!)
This is a hearty, belly-filling soup. This is the perfect comfort food for those chilly days. And it will surely put a smile on anyone feeling under the weather.
---
Recipe from Lily's Cafe Cookbook, Revised Edition by Kyra Alex
Chicken and Rice Soup
Total Time:
1 hour
5 minutes
This comforting soup is full of vegetables, rice and chicken. It's a healthy dish to warm your soul on a cold night.
Ingredients
1 Tablespoon vegetable or grapeseed oil
1 medium onion, peeled and chopped
2-4 large carrots, peeled and chopped
2-3 stalks celery, chopped
8 cups chicken stock
1/2 cup chopped fresh parsley, or 3 1/2 Tablespoons dried
1 teaspoon basil
a pinch of thyme
1 cup white rice, uncooked
2 cups cooked chicken, chopped or shredded
Instructions
In a large soup pot, heat the oil over medium-high heat until shimmering. Place the onion, carrots and celery in the pot. Cook until softened, about 8-10 minutes, stirring occasionally.

Add the chicken stock and herbs. Bring to a boil. Add the rice and chicken. Lower the heat, cover the pot and simmer until the rice is tender, about 35-45 minutes. Add salt and pepper to taste and serve hot.