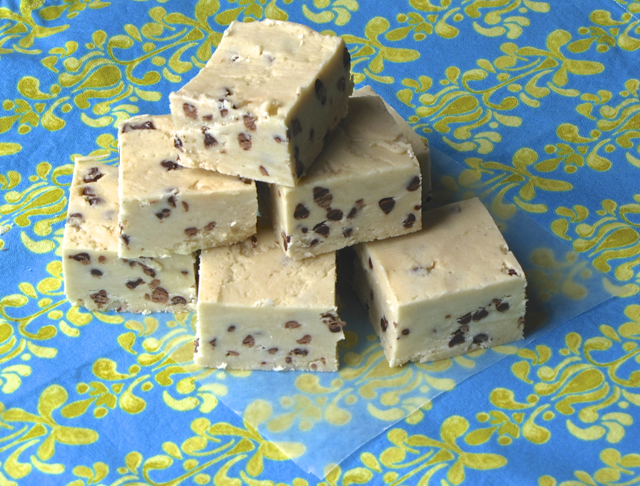 Hello cookie dough lovers! I am on a roll here. Cookie dough fudge? Brilliant I say! It's like little pieces of heaven. These are uber sweet, but who doesn't enjoy that sometimes? The title alone is enough of a description for this fudge. Writing about these makes me want to make the fudge again. Immediately. These might have to make it into my Christmas gift bags this year…
---
Recipe from Sally's Baking Addiction, originally from The Cookie Dough Lover's Cookbook, by Lindsay Landis
Chocolate Chip Cookie Dough Fudge
Egg free cookie dough turned into creamy, addicting fudge is on everyone's wish list this year. Make a big batch to gift, or just to enjoy yourself!
Ingredients
For the cookie dough
1/3 cup unsalted butter, at room temperature
1/4 cup sugar
1/4 cup light brown sugar
1/2 teaspoon vanilla extract
1/8 teaspoon salt
2 Tablespoons half-and-half
1/2 cup all-purpose flour
For the fudge
1/3 cup light brown sugar
1/3 cup unsalted butter
pinch of salt
1/3 cup half-and-half
4-5 cups confectioners' sugar
1 teaspoon vanilla extract
1/2 cup mini semi-sweet chocolate chips
Instructions
Line 8x8 square baking pan with aluminum foil or parchment paper. Set aside.

For the cookie dough, combine butter and sugars in the bowl of a stand mixer. Beat on medium speed until light and fluffy, about 3-4 minutes. Mix in vanilla, salt, and half-and-half. Add flour and mix until just combined.

To prepare the fudge base, combine brown sugar, butter, salt, and half-and-half in a medium saucepan. Stir over medium-low heat until butter is melted and brown sugar is dissolved. Remove from heat. Slowly stir in confectioners' sugar, 1 cup at a time, until mixture is smooth and sugar is incorporated throughout. Stir in the vanilla extract. Add more confectioners' sugar if desired. The more powdered sugar you add, the thicker, firmer, and sweeter the fudge will be.

Add cookie dough to the fudge base and stir to combine. At this point, the mixture should have cooled to room temperature. If not, continue to stir until it is no longer warm to the touch. Fold in mini chocolate chips and spread fudge into prepared baking pan. Chill until set, about 3-4 hours. Cut into squares and serve.
Notes
Fudge will keep for 1 week stored in the refrigerator.