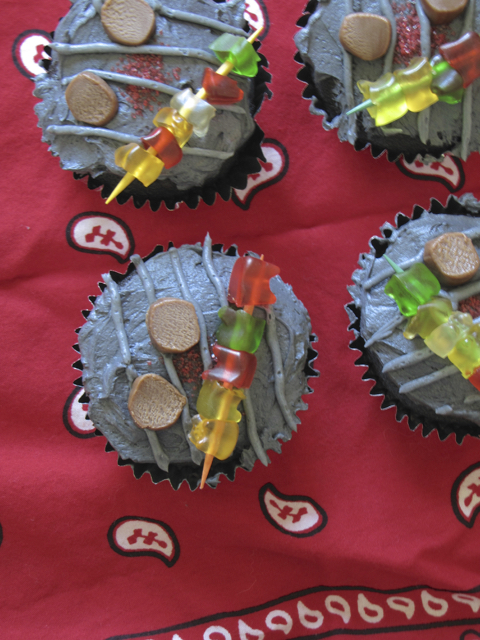 This is the second part of my surprise dinner that I made for my husband for father's day. These cupcakes are sooo good. Like over the top chocolate, moist, yumminess. We ate the batch of cupcakes within three days, and my husband was wishing for more!
These would be great to bring to a cookout (of course) or for a little surprise for the griller in the family. They take some time, but it's totally worth it. I was so excited about the gummy bears on the toothpick, that I ended up skewering myself with it in my finger. But it was so worth it. Is that sad?
---
Recipe for the cupcakes from Joy of Baking, frosting from Annie's Eats and mini grills from 2013 Cupcakes Calendar
Chocolate Cupcake Mini Grills
These adorable cupcakes are a fun treat for a special occasion. Chocolate cupcakes topped with vanilla buttercream frosting that has been made to look like a little grill, then topped with candies to replicate food- a fun treat for everyone!
Ingredients
For the chocolate cupcakes
1/2 cup unsweetened cocoa powder
1 cup boiling water
1 1/3 cups all-purpose flour
2 teaspoons baking powder
1/2 teaspoon salt
1/2 cup unsalted butter, softened
1 cup sugar
2 large eggs
2 teaspoons vanilla extract
For the vanilla buttercream frosting
20 Tablespoons (2 1/2 sticks) unsalted butter, softened
2 1/2 cups confectioner's sugar
1/8 teaspoon salt
2 teaspoons vanilla extract
2 Tablespoons milk or heavy cream
To make the mini grills
1 package gummy bears
1 package tootsie rolls
toothpicks
black icing gel color
red, yellow or orange sanding sugar
Instructions
Preheat the oven to 375ºF. Line 16 cupcake wells with foil liners. Set aside.

In a small bowl, whisk together the cocoa powder and boiling water until smooth. Let cool to room temperature (you can speed this process up by placing in the refrigerator or freezer for 10 minutes).

In a separate bowl, whisk together the flour, baking powder and salt.

In the bowl of your stand mixer, beat the butter and sugar together until light and fluffy, 2-3 minutes. Add the eggs, one at a time, beating until smooth. Beat in the vanilla extract. On low speed, slowly add the flour mixture and mix until combined, making sure not to over mix. Add the cooled cocoa mixture and beat until well combined, making sure there are no streaks.

Fill the prepared cupcake pans about 2/3 full. Bake for 16-20 minutes, or until springy to the touch and a toothpick inserted in the center comes out with a few clinging crumbs.

Remove from oven and let cool completely on wire racks before frosting.

To prepare the buttercream frosting, in the bowl of a stand mixer fitted with the whisk attachment, beat the butter at medium-high speed until smooth, about 20 seconds. Add confectioner's sugar and salt; beat at medium-low speed until most of the sugar is moistened, about 45 seconds. Scrape down the bowl and beat at medium speed until mixture is fully combined, about 15 seconds. Scrape bowl again, add vanilla and milk, and beat at medium speed until light and fluffy, about 4 minutes, stopping to scrape bowl once or twice.

To prepare the mini grills, if necessary, cut the tops off the cupcakes to create a flat surface. Divide the frosting into two bowls, with three quarters in one bowl and remainder in the other bowl. Tint the large portion with the black icing gel color until the frosting is black. Tint the small portion with just a few drops to create a light gray color.

Spread a flat layer of the black icing on top of each cupcake. Sprinkle a pinch of sanding sugar in the center of each cupcake to look like coals.

Transfer the gray frosting to a pastry bag and pipe parallel lines over the top of each cupcake to mimic the grates of a grill.

To prepare the "food" for the grill, cut gummy bears of all colors into thirds, and stick onto toothpicks to look like kabobs.

Slice the tootsie rolls and form into burger patties. (If you have edible marker, which I didn't, draw lines on the "patties" to make it look like there are grill marks)

Place all the pieces of food on top of the cupcakes. Enjoy!