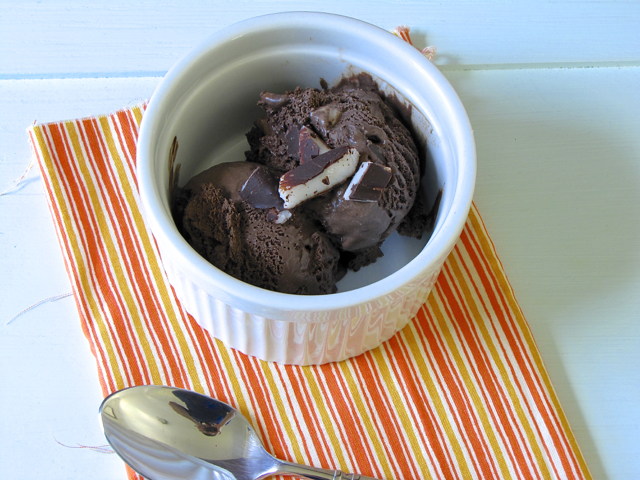 I must say that I was never a big chocolate person. I love chocolate bars, but chocolate ice cream, or cake…. I'll take a pass. Saying that, I am slowly being converted over time. This ice cream is killer and when it has my all-time favorite candy in it, I couldn't resist. You can't beat homemade peppermint patties!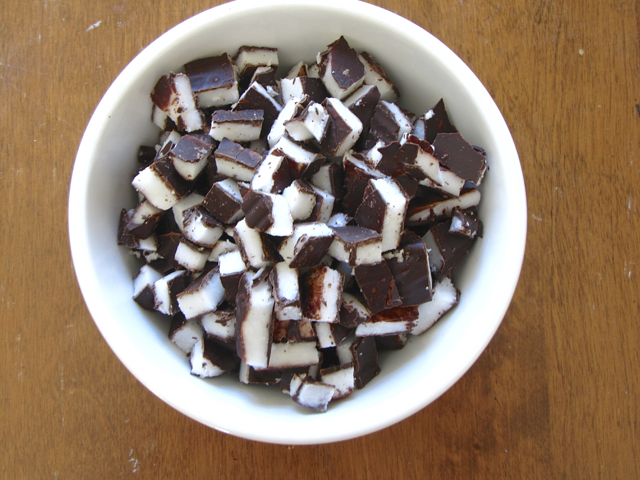 This ice cream is creamy, dreamy and delicious. Serve it by itself, or indulge with peppermint patties. You won't be sorry you made it. And you might not want to share.
---
Recipe from The Perfect Scoop, by David Lebovitz
Chocolate Ice Cream with Peppermint Patties
This rich and creamy chocolate ice cream has homemade peppermint patties swirled into it. A perfect combination of chocolate and mint.
Ingredients
For the chocolate ice cream
2 1/4 cups heavy cream
6 Tablespoons unsweetened cocoa powder
1 cup granulated sugar
pinch of salt
6 oz. unsweetened chocolate, chopped
1 cup whole milk
1 teaspoon vanilla extract (or peppermint extract)
For the peppermint patties
2 cups confectioner's sugar
3 Tablespoons light corn syrup
2 teaspoons water
scant 1/8 teaspoon peppermint extract
6 ounces bittersweet or semisweet chocolate, chopped
Instructions
To make the ice cream, whisk together the heavy cream, cocoa powder, sugar and salt in a large saucepan. Heat the mixture over high heat, whisking frequently, until it comes to a full boil (it will start to foam up). Remove from the heat and whisk in the chopped chocolate until it's completely melted. Then whisk in the milk and vanilla extract. Pour the mixture into a blender and blend for 30 seconds, until smooth.

Chill the mixture thoroughly in the refrigerator (I like to do this overnight), then freeze it in your ice cream maker according to the manufacture's instructions.

To make the peppermint patties, line a small baking sheet with plastic wrap or parchment paper and dust it with about 1 tablespoon of the confectioner's sugar.

In a bowl, mix the corn syrup, water, and peppermint extract. Gradually stir in the remaining confectioner's sugar. As the mixture thickens, knead it with your hands until it forms a smooth ball. (It may seem dry at first, but don't despair, it will come together.)

Pat the dough out onto the sugar-dusted baking sheet, about 1/3 inch thick and let it dry, uncovered, for at least 8 hours or overnight on the counter.

After it has dried, melt the chocolate in a bowl set over a pot of simmering water. Stir until smooth. Remove from the heat. Line a dinner plate with plastic wrap. Cut the peppermint disk into 6 triangular wedges and brush off any excess sugar. Using two forks, dip each wedge into the melted chocolate, turning it over to coat both sides. Transfer the dipped wedges to the prepared dinner plate. Chill in the refrigerator, or freeze until the chocolate has firmed up, then chop into bite-sized pieces.

Fold the peppermint patties into the chocolate ice cream as you remove it from the machine.