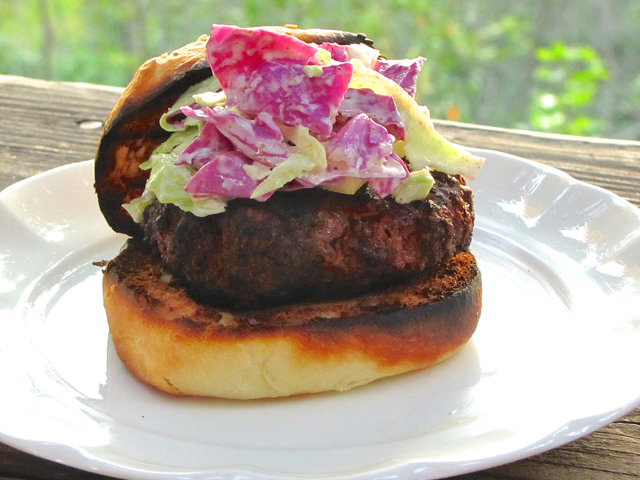 Rumor has it that it's going to be another hard winter- ugh. So, we are trying to squeeze in as many grilling days as possible before summer is really over. Also with winter on its way (I am not trying to rush things here!), we have our orders of organic beef and pork coming in from a local farm. Therefore, we need to finish up the meat we have still in the freezer. (Which is still quite a bit.)
I thought a great way to use up some beef and sausage was to combine them! I like to add some spices to cover the slight gamey taste of the organic meat. And slaw on top of the burgers? Yes please! The flavor combinations were just fantastic. These burgers made a great dinner to celebrate a beautiful summer evening.
---
Island Bakes Original
Chorizo Burgers with Slaw
Hamburger and chorizo come together to create a super flavorful burger topped with a slightly tangy and spiced slaw. It's summer in a bun.
Ingredients
For the burgers
1 lb. ground beef
1 lb. chorizo sausages, casings removed
1/2 teaspoon salt
1/4 teaspoon ground pepper
1/2 teaspoon ground cumin
1/4 teaspoon garlic powder
For the slaw
4 cups chopped cabbage
4 Tablespoons mayo
1/4 teaspoon salt
1/4 teaspoon pepper
1/4 teaspoon garlic powder
1/4 teaspoon ground cumin
1/8 teaspoon cayenne
1 teaspoon lemon juice
To serve
burger buns
cheese (optional)
Instructions
To prepare the slaw, place all the ingredients in a large bowl and mix until fully incorporated. Cover with plastic wrap and place in the refrigerator until ready to use.

To prepare the burgers, place the chorizo and beef in a large bowl. In a small bowl, stir together the salt, pepper, cumin and garlic powder. Sprinkle over the meat and mix with your hands until the the spices are evenly distributed and the meat is mixed together. Form the mixture into desired size patties.

Oil the grill grates so the burgers won't stick. Grill the burgers until completely cooked through. To serve, place burgers on toasted buns, and top with about 1/4 cup of the prepared slaw on each burger. Enjoy!