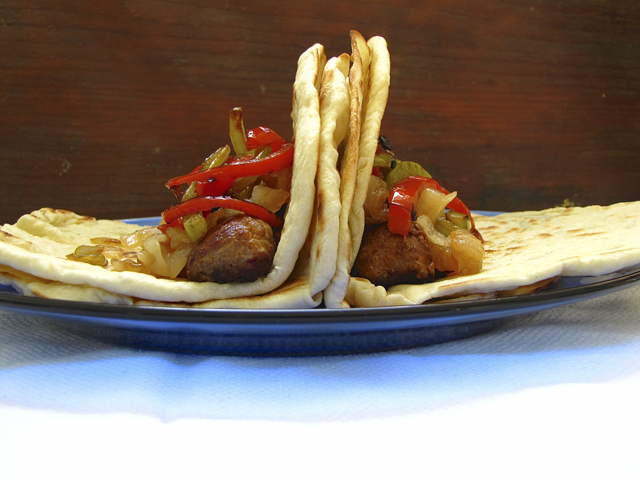 Does anyone else go through spurts of wanting to cook constantly, making several things in one day, then all of a sudden it stops and the idea of cooking dinner is a drag? Maybe I stand alone, but I definitely go through that occasionally. Especially when it's super hot in the house or I have been busy all day, dinner is just one more thing added to the list of things to do. Since I know that I get negligent with dinner preparations occasionally, I make sure to put a few simple and quick meals on the menu for the week.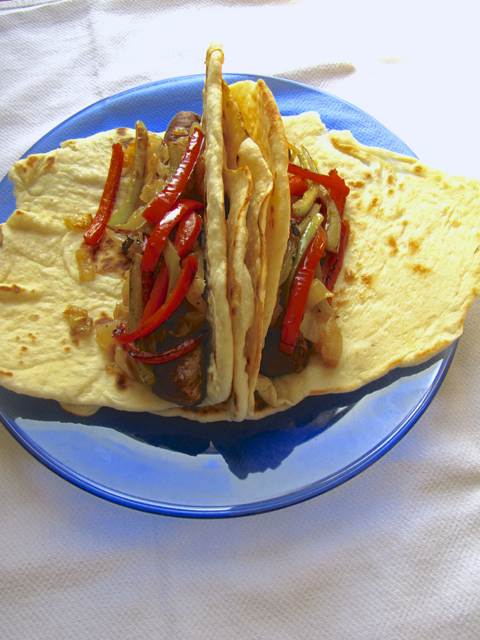 This recipe is definitely when I am inspired to take some time with dinner. I made the flatbread earlier in the day, so when it came to dinner time, I only had to cook the sausage and vegetables. I made it much easier for myself that way! You could even cook the flatbread a day in advance and reheat them the day of consuming in the oven a little so they taste freshly made!
For the past couple of years we have been ordering our meat from a local farm, Old Ackley Farm. This year, we ended up with an abundance of chorizo sausage. In result, I have been trying and inventing new recipes to use up the immense box in our freezer. It has been a lot of fun!
The strange thing about it is, I never liked sausage until I had it from Old Ackley. And I still won't eat any other kind!
This recipe was inspired by the lovely Kyra Alex. It is sooo good. I couldn't wait to have left overs the next day for lunch. It takes a bit of time to cook, but it is definitely worth it. Also, instead of the skillet, you could easily grill the flatbread and the chorizo.
---
Recipe for the flatbread adapted from Lily's House
Chorizo Flatbread Sandwiches
Tender flatbread is used to sandwich seasoned chorizo with caramelized onions and tender bell peppers for an epic sandwich.
Ingredients
For the flatbread
2 2/3 cup all-purpose flour
1 1/4 teaspoons rapid rise (instant) yeast
2 teaspoons kosher salt
1 cup warm water
2 Tablespoons olive oil, plus more for rolling out
For chorizo sandwiches
1 12 oz. package of chorizo sausage (if sausage is thick, slice in half lengthwise)
4 medium onions, peeled and thinly sliced
1 teaspoon salt
2 green and/or red bell peppers, thinly sliced
6 Tablespoons grapeseed oil, divided
Instructions
To make the flatbread, in a medium mixing bowl, whisk together the flour, yeast and salt. In a 1 cup measuring cup, combine the water and oil. Stir the oil mixture into the flour. Stir until a is dough formed and all the flour is incorporated.

Turn the dough out onto a lightly floured surface. Knead the dough until smooth, about 2 minutes.

Place the dough in a lightly oiled bowl and turn to coat. Cover with plastic wrap and let rise until double, about 1 1/2 to 2 hours.

When the dough has risen, lightly punch it down and turn out onto a dry counter. Gently tear off chunks of dough in desired size. Drizzle a little olive oil on both sides of a dough piece, and roll into an 1/8-inch thick round. (I rolled out two at a time while two were cooking.)

Heat a skillet (or two if you are good at multi-tasking!) over medium heat. Place a rolled out piece of dough in the skillet and cook, until lightly browned on each side, about 2 minutes per side. Place the cooked flatbread on a wire rack so moisture doesn't build on the bottom. Continue to cook each rolled out dough, until all the dough is gone.

To make the sandwiches, In a medium skillet over medium heat, heat 4 tablespoons of grapeseed oil. Add the onions and salt. Cook, stirring occasionally, until golden brown and caramelized, about 20-25 minutes. Transfer to a bowl and set aside.

In the same skillet, heat the remaining 2 tablespoons of oil. Stir in the bell peppers and cook until softened, 8-10 minutes.

Meanwhile, in another skillet over medium heat, cook the sausage until dark brown on all sides and cooked through. Drain the cooked sausage on a paper towel-lined plate.

To assemble sandwiches, place a couple of sausages in the center of a flatbread. Layer with desired amount of onions and peppers. Fold over and consume! Serve alongside a salad and enjoy!