I can't believe that June is already half way over! Where has the time gone? My daughter just finished first grade! I can't believe that school is out and now I have a second grader on my hands. Also, my son will be starting kindergarten in the fall and my youngest will be going to daycare two days a week! Eeeekk, I am beside myself. They grow up too fast. Things have been pretty busy around here, and I am sorry to say that the blog had gotten pushed to the side. Don't worry, I am back now! And, I have many exciting, delicious recipes that I can't wait to share with all of you.
I feel as if our Maine weather is way behind the rest of the country. It has been a windy, cold spring that didn't seem to want to let up until recently. Only in the last few days I have broken out my shorts and t-shirts. I am envious of all the bloggers I follow, with their photos of large, juicy, red strawberry bounties. Locally, the picking season isn't quite ready yet. Hopefully by the end of the month I will be able to take the kids and get our large picking so I can make jam!
While we wait for strawberries to hurry up and ripen, I have a fabulous chicken recipe to share with you. I made this earlier in the spring when it wasn't quite warm enough (and it was too windy) to grill. But, luckily, one of the best things about chicken is, it is very versatile! You could definitely grill this chicken instead of baking it.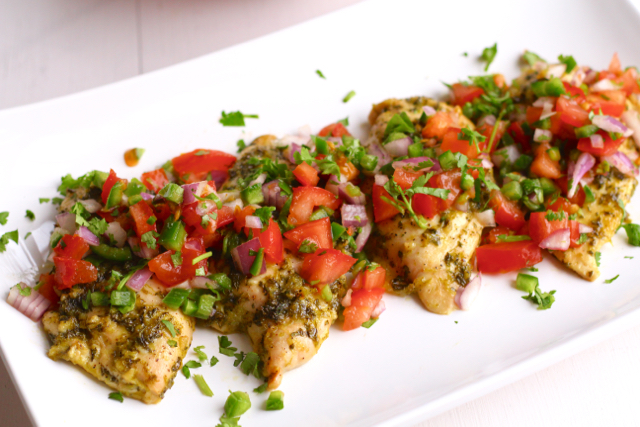 Let me break this chicken down for you. First, you make a very simple, yet delicious marinade that involves some fresh lime juice and cilantro. Then, while the chicken is soaking up that beautiful marinade, you make Pico de Gallo. Which is, a little jalapeño, a little tomatoes and a little onions. This wonderful concoction is served over the chicken once it is cooked. (P.S, the Pico de Gallo is amazing when eaten with chips. I'm just sayin'.) This is one of my new favorite chicken dishes! Although, I think I say that every time I cook chicken. That is how much I love it.
---
Recipe for the chicken marinade adapted from Cooking Classy, Pico de Gallo adapted from The Pioneer Woman
Cilantro-Lime Chicken with Pico de Gallo
Total Time:
1 hour
15 minutes
Juicy marinated, baked chicken is topped with spicy juice pica de gallo. Perfect for the main part of the meal served with a side salad.
Ingredients
For the chicken
1 Tablespoon lime zest
1/3 cup fresh lime juice
1/4 cup olive oil
1 1/2 teaspoons honey
1/3 cup chopped cilantro, plus more for serving
3 cloves garlic, minced
1 1/2 teaspoons salt
1/2 teaspoon pepper
4 chicken boneless, skinless chicken breasts halves
For the pico de gallo
4 roma tomatoes, diced small
1/2 onion, diced small
2 jalapeño peppers, seeded and minced
1/4 cup cilantro, chopped (you can do more or less, depending on your preference)
lime juice
salt
Instructions
In a large ziplock bag, pour in all of the all of the marinade ingredients, except the chicken. Seal the bag and shake so everything is mixed. Place the chicken in the bag and seal. Place on its' side with the chicken in a single layer. Place in the refrigerator and marinate for 2-4 hours.

While the chicken is marinading, make the Pico de Gallo. Gently mix together the tomatoes, onion and jalapeños. Gently stir in the cilantro, 1/4 teaspoon salt and 1 Tablespoon lime juice. Taste and add more salt and/or lime juice to taste. Cover with plastic wrap and refrigerate until ready to use. Stir one last time, right before serving.

When the chicken is ready to cook, preheat the oven to 350ºF.* Have ready a 9x13 baking dish with sides. Place the chicken in a single layer in the baking dish. Reserve the remaining marinade. Place the chicken in the preheated oven and bake for about 1 hour, or until a instant-read thermometer reads 165ºF, pouring the remaining marinade over the chicken half way through baking.

Remove the chicken from the oven. Place the chicken on a large serving plate and spoon the Pico de Gallo over the top. Eat and enjoy!
Notes
*If you prefer to grill the chicken, turn the grill on to medium-high heat. Oil the racks. Cook the chicken, turning occasionally until the internal temperature reaches 165ºF. Brush the remaining marinade over the chicken as it cooks.