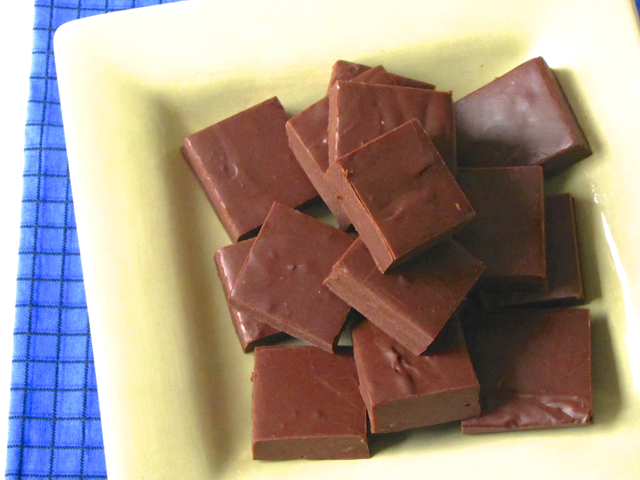 I have searched far and wide for a good, plain chocolate fudge recipe. It seems like every recipe I come across has nuts or marshmallows in it, or made with fluff. No thank you. I really wanted something creamy and just chocolate. I was skeptical to try this recipe at first. But oh my word. This fudge is like little pieces of heaven. It is creamy, chocolatey, melt-in-your-mouth amazingness. The cinnamon is faint, but adds a little something extra. Beware, you won't want to share these if you make a batch. I won't judge if you eat the whole pan.
---
Recipe from Giada De Laurentiis via foodnetwork.com
Cinnamon Chocolate Fudge
Yield:
about 16-20 pieces
This fudge is super simple to make and yields a thick and amazingly creamy fudge. With a hint of cinnamon, this is perfect to make any time of the year for yourself or as a gift.
Ingredients
1 (14-ounce) can sweetened condensed milk
2 teaspoons ground cinnamon
1 teaspoon pure vanilla extract
1 pound (about 2 cups) bittersweet chocolate chips
3 Tablespoons unsalted butter, cut into 1/2-inch pieces, at room temperature
Instructions
Grease or butter the bottom and sides of an 8x8-inch baking pan. Line the pan with a sheet of parchment paper, about 14-inches long and 7-inches wide, allowing the excess to overhang the sides. Set aside

In a medium glass or stainless steel bowl, combine the condensed milk, cinnamon, and vanilla. Stir in the chocolate chips and butter. Place the bowl over a saucepan of barely simmering water and stir until the chocolate chips have melted and the mixture is smooth, about 6 to 8 minutes (mixture will be thick). Using a spatula, scrape the mixture into the prepared pan and smooth the top. Refrigerate for at least 2 hours until firm.

Run a warm knife around the edge of the pan to loosen the fudge. Remove the fudge to a cutting board. Peel off the parchment paper and cut the fudge into 1-inch pieces. Store refrigerated in an airtight container or freeze.