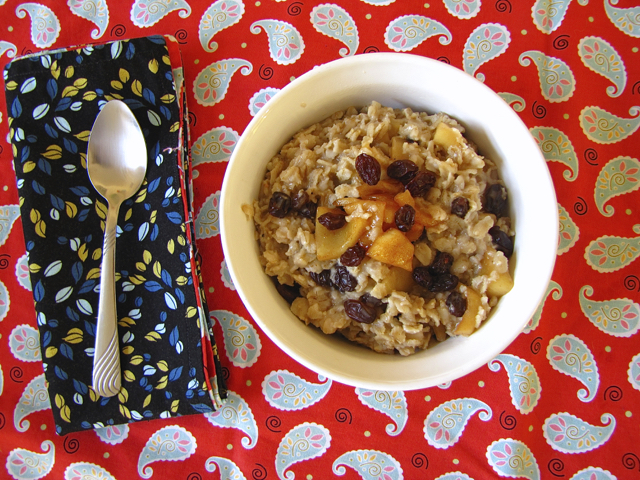 Recently, I have been super busy and constantly on the go (at least that is how it seems!). So, breakfast has been a whirlwind. Usually, I have my trusty granola for breakfast, nearly every day. But, I ran out and haven't been motivated to make anymore. (Lazy?) So, I have been making oatmeal a lot lately. Something, I must admit, I have never been able to get into, until now!
This oatmeal is like eating apple pie for breakfast. But, without the calorie load. And the sugar high. It most definitely knocks the socks off any oatmeal I have ever had before. I think my son agreed, because he gobbled up his bowlful, then immediately requested more. After this oatmeal was devoured, the day's tasks didn't seem so daunting.
---
Island Bakes Original
Cinnamon Raisin Oatmeal with Caramelized Apples
This homemade oatmeal is fabulous with its caramelized apples and warm spices. It's great with orchard-fresh apples, but will suffice year round.
Ingredients
1 3/4 cups water
1 1/4 cups old-fashioned oats
1 apple, peeled, thinly sliced then chopped in half
1/2 Tablespoon unsalted butter
2 Tablespoons honey
2 teaspoons ground cinnamon
1/8 teaspoon ground nutmeg
1 teaspoon vanilla extract
1/3 cup raisins
Instructions
In a medium saucepan over high heat, bring the water to a boil. Stir in the oats and bring to a boil again. Turn the heat down to medium-low and simmer, stirring occasionally until creamy and the water is absorbed, about 6 minutes. Stir in the vanilla, nutmeg and raisins.

Meanwhile, in another medium saucepan, over medium heat, melt the butter. Stir in the sliced apples, honey and cinnamon. Cook, stirring frequently, until the apples are golden and soft, 7-10 minutes. Stir the apple mixture into the oats and serve.