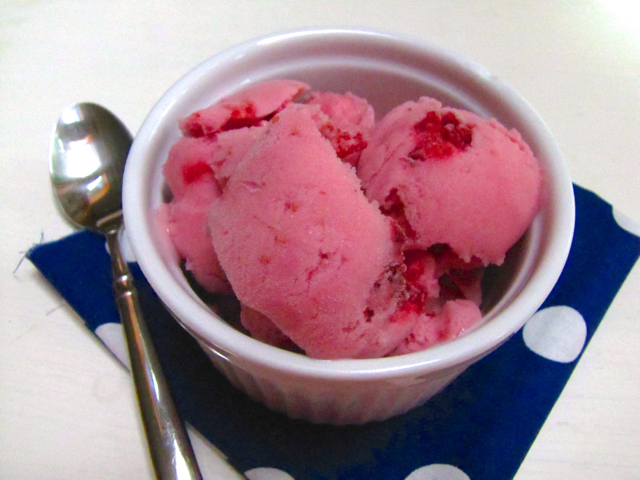 July is national ice cream month! Wahoo. I have several recipes to share with you this month that I am excited about. Ice cream, as you probably know by now, is my all-time favorite dessert. I could eat it daily if my waistline wouldn't disagree with me.
This recipe is a wonderful change up of the typical ice cream. No heavy cream! Just coconut milk. A totally awesome healthier option in my opinion. It is creamy and delicious. I amped up the raspberries because in my opinion, there weren't enough! A perfect treat to beat the heat.
---
Recipe adapted from Two Peas and Their Pod
Coconut Raspberry Ice Cream
This creamy, dairy free ice cream is a wonderful alternative summer dessert. 
Ingredients
2 (13.66 oz) cans Thai coconut milk (not the lite kind, you need full fat here!)
3/4 cup granulated sugar
1 teaspoon vanilla extract
2 cups raspberries (fresh or frozen), divided
1 teaspoon lime juice
Instructions
Place the coconut milk, sugar,vanilla, lime juice and 1 cup raspberries in a blender. Blend until combined.

Place in the refrigerator until completely chilled (a couple of hours or overnight).

Freeze using an ice cream maker, according to manufacture's instructions. During the last few minutes of churning, add in the raspberries. You can serve immediately for a soft serve texture or you can place the ice cream in a container and freeze for a firmer texture.