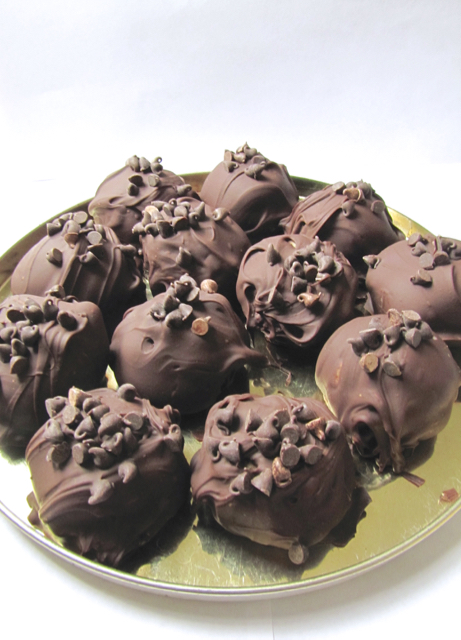 A few days ago, it was my sister's husband's birthday. I don't like to buy gifts for people usually, so I bake instead! I love being in the kitchen, and it makes me happy to see someone enjoy what I have made.
I have been on a serious cookie dough kick lately. When I was flipping through my cookbook, these cookie dough truffles immediately called to me. It was perfect, because I had all the ingredients already. I am warning you, these babies are addicting. They are filled with cute mini chocolate chips and cookie dough heaven.
---
Recipe from Annie's Eats
Cookie Dough Truffles
Yield:
about 2 dozen truffles
These cookie dough truffles are filled with egg-free, raw cookie dough that is incredibly addicting. Covered in a coat of melted chocolate, these will be hard to stop at one.
Ingredients
8 Tablespoons unsalted butter, at room temperature
3/4 cup light brown sugar, packed
2 1/4 cup all-purpose flour
1 (14 oz.) can sweetened condensed milk
1 teaspoon vanilla extract
1/2 cup mini chocolate chips
24 oz. semisweet chocolate chips
mini chocolate chips for garnish
Instructions
In the bowl of your mixer, cream together the butter and sugar until light and fluffy, about 2 minutes. Beat in the flour, sweetened condensed milk, and vanilla until incorporated and smooth. Stir in the mini chocolate chips.
Shape the cookie dough mixture into 1 1/2 inch balls. Place on a baking sheet lined with wax paper. Cover loosely, transfer the pan to the freezer and chill for 1-2 hours.
When ready to dip the truffles, melt the chocolate chips in a heatproof bowl set over a pot of simmering water. Dip each chilled truffle, one at a time, coating in chocolate and shaking gently to remove excess. Transfer to a wax-paper lined surface. If using mini chocolate chips as garnish, sprinkle on top immediately after dipping each truffle. Once all the truffles have been dipped, store in the refrigerator until ready to serve.