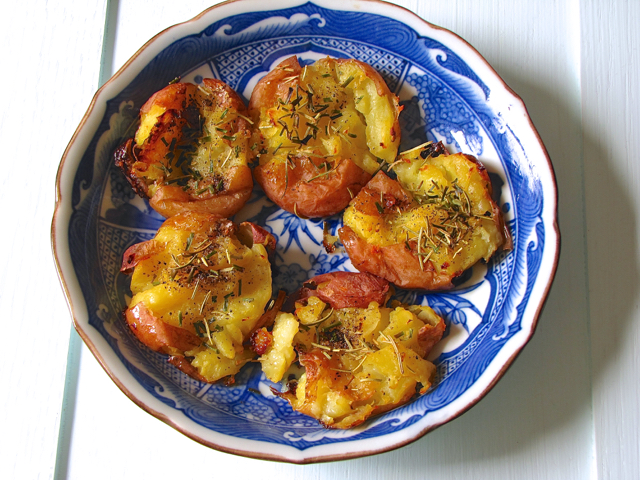 Side dishes were always something of a novelty to me when I first started cooking. I guess I never really thought about it much. So, when I starting cooking meals on a regular basis, I really had to put some thought into making a balanced meal. Now, I love side dishes. I actually get excited to make them. Maybe that's weird?
My husband absolutely loves potatoes. I like them, but I don't care to have them very often. They do make a lovely side to any meat dish. Especially in the colder months. Comfort food anyone? These potatoes are almost addicting. Something about them being crispy on the outside and creamy on the inside and the addition of one of my favorite seasoning; rosemary. A little salt and pepper and you have yourself a plate of deliciousness! (Is that a word?) Of course you can season these with whatever you prefer.
---
Recipe from The Pioneer Woman Cooks
Crash Hot Potatoes
These potatoes are crispy/tender with just the right seasonings. These are great as a side dish to any meal.
Ingredients
12 whole new potatoes (or other small round potatoes), srubbed
4 Tablespoons grapeseed or vegetable oil
3 Tablespoons olive oil
kosher salt to taste
black pepper to taste
rosemary or other herbs to taste
Instructions
Preheat the oven to 450ºF.

Bring a large pot of salted water to a boil. Add in the potatoes. Cook until fork tender, about 10 to 15 minutes.

On a cookie sheet, generously drizzle with grapeseed oil. Place cooked potatoes on the cookie sheet leaving a couple of inches between each potato. With a potato masher gently press down each potato until slightly mashed. Rotate the masher 90 degrees and mash again to make slight "x" formation.

Brush the tops of the potatoes with olive oil. Sprinkle with salt, pepper and herbs of choice.

Place in the oven and bake for 20-25 minutes, or until golden brown. Serve warm.