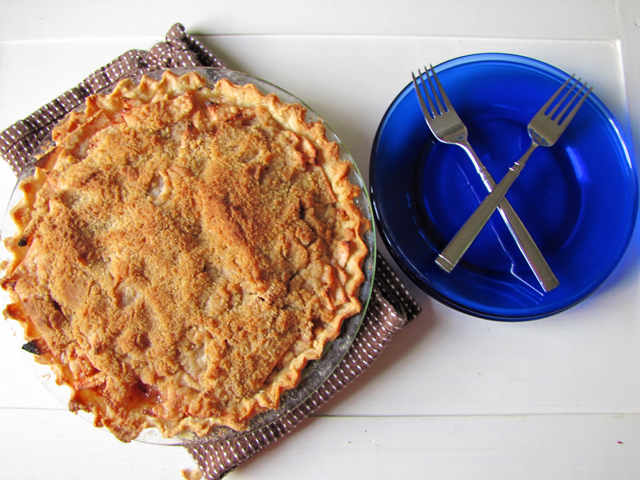 Fall is upon us! The leaves are turning and blowing off the trees, the mornings are brisk, and the heater is on constantly (until it gets cold enough to start the woodstove!). This morning I actually had ice on the windshield of my car. I am loving it. I love the smell of the air in the mornings when it's chilly (benefits of living in the country). Even though the mornings are chilly enough to wear a hat and mittens, my daughter is still begging to wear dresses. Thank goodness tights were invented!
When I was still in the single digit age, my parents used to get these recipe cards in the mail. I used to love to drool over the photos and dream of being a baker when I was older. Reminder: this was long before I was brave enough to make anything more than ramen in the kitchen. Amazingly enough, my mom has held on to those recipe cards (she still has them today!). This pie was one of the first recipes I tried from the cards when I first started out in the kitchen. To this day, I don't remember how it turned out. But, it must have been good enough to try again!
So now that is officially fall, I have totally gotten into the mood for fall baking. Apple, pumpkin, soups and casseroles. Woot woot! Since my two kids are in two different school programs, I have gotten to go apple picking twice this season. Benefits of living in the middle of nowhere, there are plenty of apple orchards around! To kick off fall baking, I am sharing with you today, my all-time favorite apple "pie". I have loved this since I was a kid. I prefer it over a regular apple pie any day. This crumble is sweet, with the wonderful crunch. Served alongside whipped cream or vanilla ice cream and you are in business!
---
Recipe adapted from Great American Home Baking
Crumbly Apple Pie
This apple pie is in a pie crust with a juicy, spiced filling and topped with a crumbly topping. The best of both worlds!
Ingredients
For the crust*
1 cup all-purpose flour
1/2 teaspoon salt
1/3 cup butter, chilled
1/4 cup ice water
For the filling
7 medium apples, peeled, cored and very thinly sliced
1/2 cup sugar
1 teaspoon ground cinnamon
1/4 teaspoon ground nutmeg
1/4 teaspoon salt
For the topping
3/4 cup packed brown sugar
3/4 cup all-purpose flour
1/2 teaspoon ground nutmeg
1/2 teaspoon ground cinnamon
1/3 cup butter, chilled and cut into small pieces
Instructions
To prepare the crust, mix together the flour and salt in a medium bowl. Using a pastry blender, or two knives, cut the butter into the flour until coarse crumbs form. Add the water, one tablespoon at a time, mixing with a fork, until a dough forms. Shape the dough into a disk, wrap in plastic wrap and refrigerate for 30 minutes.

Preheat the oven to 400ºF.

Once the dough has been chilled, lightly flour a surface and roll the dough out into a 12-inch circle. Transfer to a 9-inch pie plate. Trim excess and decorate edge if desired.

To prepare the filling, mix together the apples, sugar, ground cinnamon, ground nutmeg and salt until the apples are well coated. Spoon into the prepared crust.

To prepare the topping, mix together the brown sugar, flour, nutmeg and cinnamon in a small bowl. Using a pastry blender or two knives, cut in the butter until coarse crumbs form. Sprinkle the topping evenly over the apples.

Place the pie on a cookie sheet to prevent overflow on the bottom of the oven. Bake for about 35-40 minutes, or until the topping is light brown and the filling is bubbly. If the pie is over browning, cover loosely with tin foil. Transfer to a wire rack to cool. Serve warm or at room temperature with whipped cream or vanilla ice cream.

Store in the refrigerator for up to 5 days.