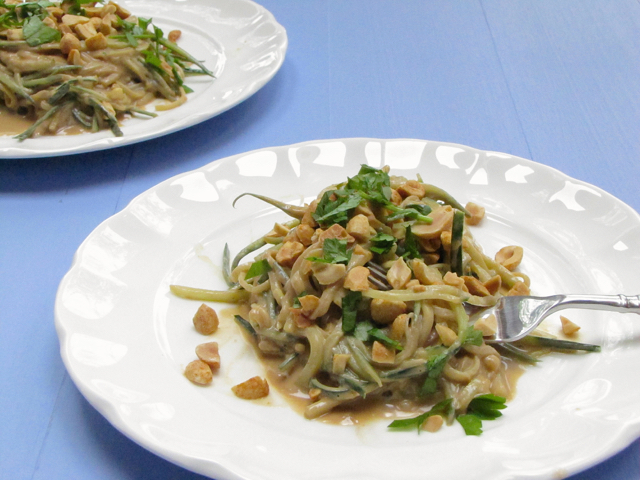 Sunday we finally had our first 75 degree day! It was very exciting to actually be hot. Maine is totally crazy this year though. Last night we had a frost! And it's almost June!! Beyond weird. I still slept with a window open though. I love listening to the peepers. And with being so close to the end of my pregnancy, I am always super hot. Yesterday I was 38 weeks along! I am getting so ready to have this baby. This time I am doing a home birth. I am really excited. My first two I had in the hospital. It will be wonderful to be in the comfort of my own home with my midwife. I have collected all the supplies I need, the crib is set up and the carseat is ready to go. Making things feel very real! And this time we don't know what we are having. Which is even more exciting!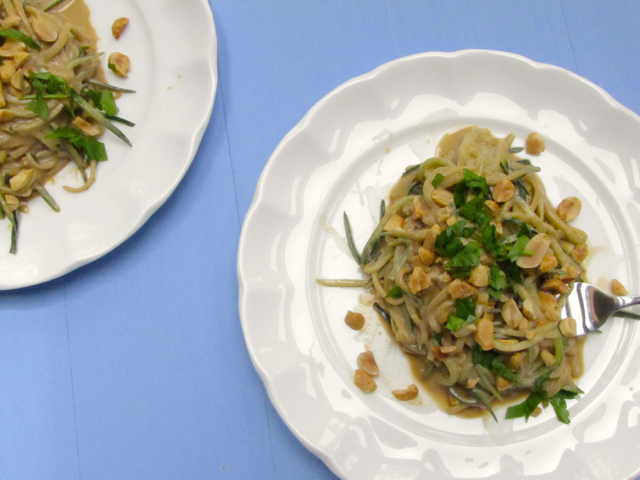 On to this wonderful recipe. It's getting to be that time of year that light, easy and cold dishes are welcome. A few days ago, my sister was spending the day at my house working from home, using the internet. So, I thought that it would be a perfect time to make this dish. Especially since I am probably the only one in my household that would eat it. It was the perfect light lunch, followed by homemade popsicles (recipe to come).
The peanut sauce is delicious. Mixed with julienned cucumbers, it became divine. The only mistake I made was not squeezing the excess liquid out of the cucumbers. So the dish became a bit watery. But it was still really good! This is a perfect dish for a hot summer's day.
---
Recipe adapted from Two Peas and Their Pod
Cucumber Noodles with Peanut Sauce
This simple dish is healthy with cucumbers as noodles with a flavorful peanut sauce. A great dish to enjoy cold on a hot day.
Ingredients
For the Peanut Sauce
2/3 cup creamy peanut butter
2 tablespoons rice vinegar
2 1/2 tablespoons soy sauce
2 teaspoons sesame oil
2 teaspoons honey
1 teaspoon fresh lime juice
1 clove garlic, minced
1/2 teaspoon ground ginger
Dash of red pepper flakes, to taste
1/3 cup warm water
For the Cucumber Noodles
2 large seedless cucumbers (or seeded with the seeds scraped out)
1/3 cup chopped fresh parsley, for garnish
1/3 cup chopped peanuts, for garnish
Instructions
First, make the peanut sauce. In a large bowl, combine peanut butter, rice vinegar, soy sauce, sesame oil, agave, and lime juice. Whisk until smooth. Stir in garlic, ginger, and red pepper flakes. Whisk in the warm water until sauce is smooth.

Next, make the cucumber noodles. Adjust the julienne blade on a mandoline to the 1/8-inch-thick setting. Carefully run a cucumber down the blade, slicing the cucumber to form noodles. Continue with the other cucumber. Gently squeeze the julienned cucumbers in a paper towel to drain any excess liquid.

Place cucumber noodles on a plate or in a bowl. Drizzle with peanut sauce and toss gently. Top with parsley and peanuts. Serve immediately.