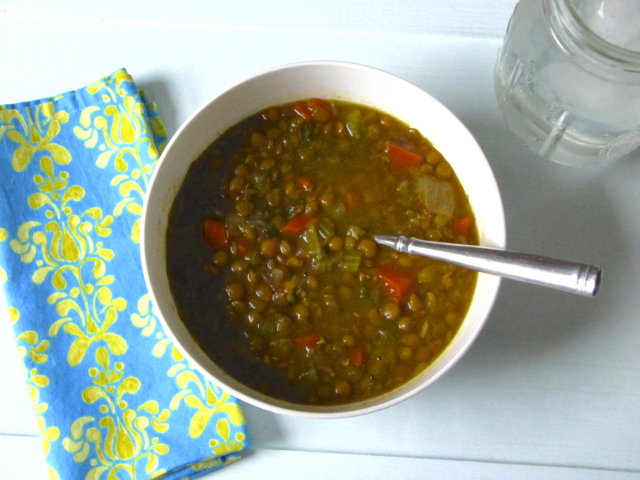 Now that some of the days are growing cooler, I am looking forward to soup making again. It is my favorite thing to eat when it's cold out. Especially when it's winter! But, let's not get ahead of ourselves now.
This soup is a wonderful, hearty meal. It is super filling, healthy and bursting with flavor. It's incredibly easy to make. You basically throw everything into the pot and let it simmer for an hour. Easy peasy! And it smells amazing to boot. A great way to feed hungry mouths.
---
Recipe from Lily's Café Cookbook Revised Edition by Kyra Alex
Curried Lentil Soup
Healthy lentils are mixed with warm spices and vegetables to create a comforting and filling soup.
Ingredients
1/2 lb. dried green lentils
1 large yellow onion, chopped
1 1/2 teaspoons minced garlic
4 stalks celery, chopped
2 carrots peeled and chopped
1/4 cup chopped fresh parsley
8 cups chicken or veggie stock
2 dried bay leaves
1 teaspoon ground cumin
1/4 teaspoon dried thyme
juice from 2 lemons
salt and pepper to taste
Instructions
Place all the ingredients, except the salt, pepper and lemon juice in a large pot. Bring to a boil and simmer, stirring occasionally, uncovered for 45 minutes to 1 hour, or until lentils are tender and the soup has thickened. Stir in the lemon juice and add salt and pepper to taste. Remove the bay leaves and serve.