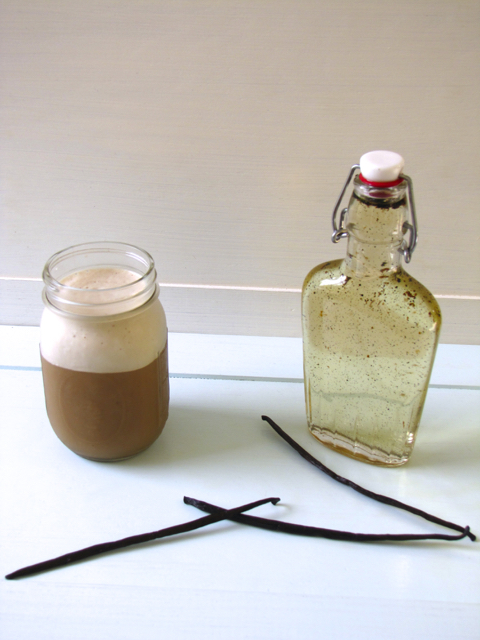 I don't know about you, but I have been rushing to enjoy all the iced coffee that I can before fall sets in. Although, the mornings have been feeling very fall-ish already. I am starting to pack in going out for ice cream, drive-in's, grilling and beach days before long sleeve weather sets in. If August feels like September, what does that mean when it is December? I don't even want to think about it!
When I drink my coffee, I usually like it with just milk or half and half. The rare times when I go Dunkin Donuts or Starbucks, I will order a caramel or vanilla flavored coffee for a little guilty pleasure. Iced with whip cream on top? Yes please! Knowing that those flavors are just terrible for me, I thought I would try to make my own for a little change once in a while. Luckily, one of my favorite blogs I follow saved me the time of researching how to make flavor syrups. I went with vanilla first to see if I would like it, or even remember to use it! My favorite way is to add it to iced coffee instead of hot. But, you can do whatever you please.
---
Recipe for the syrup from Annie's Eats
DIY Vanilla Syrup
Homemade vanilla syrup will brighten your coffee mornings. No more store bought flavoring needed!
Ingredients
1 cup sugar
1 cup water
1 vanilla bean, split lengthwise
1 teaspoon vanilla extract
Instructions
Combine the sugar and water in a small saucepan. Scrape the seeds from the vanilla bean into the pan and add in the pod. Heat the mixture over medium-high, stirring occasionally, until the sugar has dissolved. Reduce the heat to low and let simmer, about 10-15 minutes. Remove from the heat, discard the vanilla bean pod and stir in the vanilla extract. Let cool. Store in the refrigerator.
Notes
This will last in the refrigerator for several weeks.
Vanilla Iced Coffee
This simple recipe allows you to have vanilla iced coffee all summer long!
Ingredients
1 cup ice
1 cup brewed coffee at room temperature or cold
1/4 cup milk or half and half
1 Tablespoon vanilla syrup
Instructions
Place all ingredients into a blender. Blend until smooth and well combined. Serve.