Yesterday, my kid's daycare had their annual Easter party. So, of course I had to make something sweet for it! I have been eyeing over this recipe on pinterest for some time, just waiting for the opportune moment to make it! I thought it would be perfect for kids and adults alike.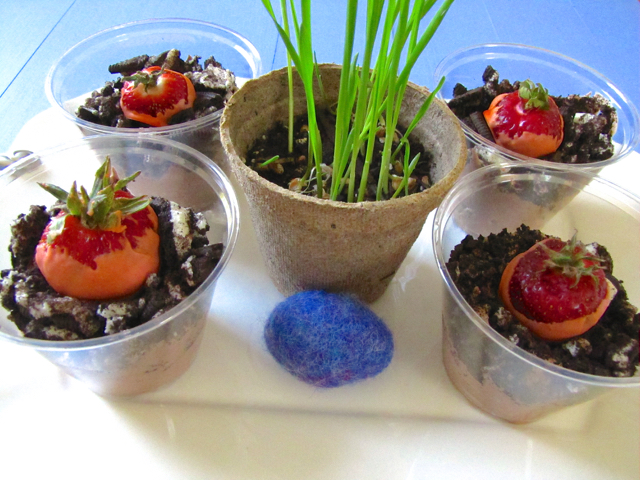 How cute is that little felt egg? My daughter made it at preschool!
The chocolate pudding is transformed into something incredibly creamy and mousse like, then topped with crushed oreos. To finish off the garden look, fresh strawberries are coated in white chocolate colored in orange to resemble a carrot poking out of the ground. I mean really, how can you get any cuter than that!? Perfect to whip up for any upcoming easter parties. And it is also perfect for your kids to help out with! They'll love crushing the oreos.
---
Recipe heavily adapted from Kid Zui
Easter Pudding Cups
This cute pudding cups are a fun dessert to serve at any gathering or party. Creamy pudding topped with Oreo "dirt" and an strawberry "carrot".
Ingredients
2 packages (3.9 oz) instant chocolate pudding
3 cups cold milk
8 oz. cool whip, thawed
1 package double stuffed Oreos
6 oz. white chocolate
14-16 medium-sized fresh strawberries
orange food coloring
Instructions
Have ready a parchment or wax paper lined baking sheet or plate.

Break up the white chocolate into large pieces and place in a microwaveable bowl. Microwave for about 1 minute. Stir and place back in the microwave for 30 second increments, stirring each time until the chocolate is completely melted. Stir in a few drops of orange food coloring until completely mixed in. Carefully dip each strawberry into the melted chocolate, making sure the stems are still exposed. Place on the prepared baking sheet. Continue until all the strawberries are used (you might have a little white chocolate left over). Set aside until the chocolate is hardened, either on the counter or in the refrigerator.

In a medium bowl, whisk together the two packets of chocolate pudding and milk. Whisk until thickened, about 2-3 minutes. Set aside to let set for about 5 minutes.

Meanwhile, place the Oreos in a large ziplock bag. Crush with a rolling pin or meat tender hammer until broken up, but some big chunks still remain. Set aside.

Once the pudding has set, fold in the thawed cool whip until no streaks remain. Fold in 3/4 cup of the crushed Oreos into the pudding mixture.

Spoon pudding into cups (I used Solo 9 oz. clear plastic cups), filling about 1/3-1/2 full. Sprinkle the crushed Oreos over the pudding. Gently nestle a strawberry into each cup, so the tops are still exposed. (You may have a few strawberries left over that you can enjoy yourself!)

Refrigerate the pudding cups for at least two hours before serving. (These are best the day they are made because the Oreos may get soggy.) Enjoy!