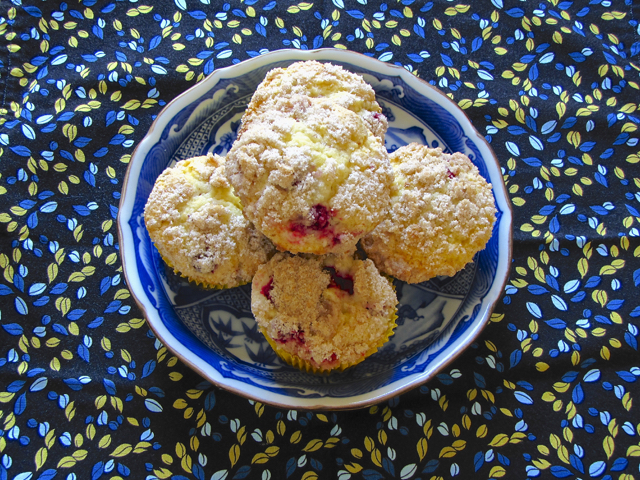 I meant to share this recipe with you in December. But, like I have said, blogging got put on the back burner since things got so crazy. I have had this recipe bookmarked for ages. I just have never made it before because my husband doesn't like cranberries or eggnog, so I didn't want to make a batch just for myself. Finally, I said the heck with it and made them. I had some frozen cranberries in my freezer left over from thanksgiving, so it worked out perfectly. I ended up distributing a bunch to family and saving a few for myself. These were so good. They were moist, and a total feel-like-a-sinful breakfast. I would definitely have no problem making these again, and again.
---
Recipe from Annie's Eats
Eggnog Cranberry Muffins
These sweet muffins are perfect for the holidays. Filled with eggnog and fresh cranberries, they'll make anyone's morning that much better.
Ingredients
For the muffins
2 1/4 cups all-purpose flour
1 Tablespoon baking powder
1/4 teaspoon salt
1 cup plus 2 Tablespoons granulated sugar, divided
2 large eggs
3/4 cup eggnog
5 1/3 Tablespoons unsalted butter, melted
1 teaspoon almond extract
1 1/2 cups coarsely chopped cranberries (fresh or frozen)
For the topping
1/2 cup sugar
1/2 cup all-purpose flour
1/2 teaspoon ground cinnamon
4 Tablespoons unsalted butter, slightly softened
1/2 cup chopped pecans (optional)
Instructions
Preheat the oven to 400ºF. Line 14-16 muffin cups with paper liners.

In a medium mixing bowl, combine the flour, baking powder and salt; stir to combine. In a large mixing bowl, combine 1 cup of the sugar, eggs, eggnog, melted butter and almond extract. Stir until well combined. Mix in the dry ingredients just until incorporated. Toss the chopped cranberries with the remaining 2 tablespoons of sugar, and fold into the batter. Divide the batter evenly between the prepared muffin liners, filling them about two thirds of the way full.

To make the streusel topping, combine the sugar, flour, cinnamon and butter. Cut the butter into the dry ingredients until a coarse, crumbly mixture forms. Stir in the pecans if using. Sprinkle the mixture evenly on top of the muffin batter.

Bake for about 18-22 minutes, or until a toothpick inserted in the center comes out clean. Let cool in the pan for 5-10 minutes, then transfer to a wire rack and let cool completely.