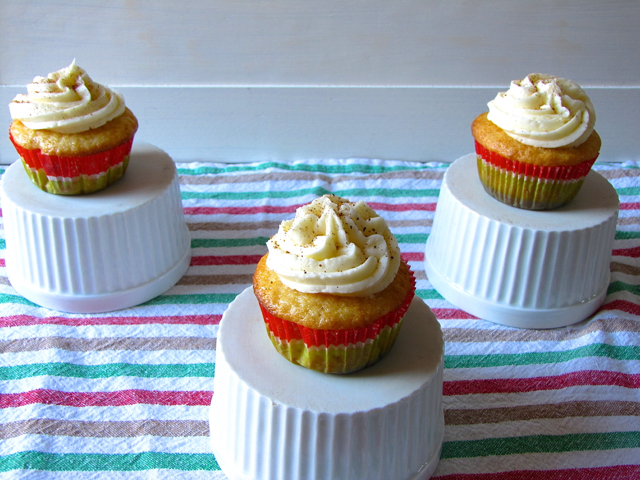 I have been on a total eggnog kick lately. My dad gave me some extra eggnog he and my mom had since they don't drink it (gasp!), and so I have been determined to find other ways to consume it other than drinking it. I have had this recipe bookmarked for ages, but I haven't made it because I haven't had a reason to and my husband doesn't like eggnog. Since all my siblings are around now, I can bake and give away extras so I am not stuck eating an entire batch myself. (Although I might enjoy that, my waistline might not.)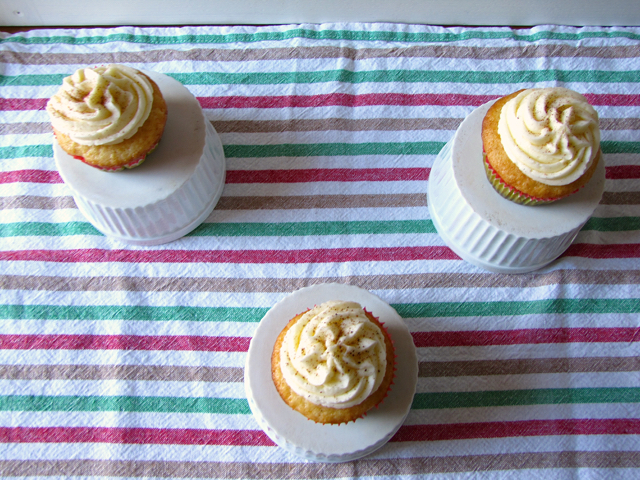 So, I made up my own excuse to finally use this recipe. I am so bummed that I didn't make it years ago! These cupcakes are like eating christmas. (Is that possible?) They smell and taste amazing. The eggnog flavor is wonderful and the nutmeg really brings it all together. The cupcake is moist and light, while the frosting is creamy and delicious. These would be welcome at any holiday party! You can even make them strictly adult cupcakes by adding some rum.
---
Recipe from Annie's Eats
Eggnog Cupcakes
Eggnog and warm spiced flavored cupcakes with a creamy, eggnog frosting that are perfect for the holidays.
Ingredients
For the cupcakes
1 1/3 cups all-purpose flour
1/4 teaspoon baking soda
1/2 teaspoon baking powder
1/2 teaspoon salt
1/4 teaspoon ground nutmeg
1/4 cup dark rum (optional)
1 cup eggnog
1/4 cup vegetable oil
1 Tablespoon apple cider vinegar
1 teaspoon vanilla extract
1 cup sugar
For the frosting
20 Tablespoons unsalted butter, at room temperature
2 1/2-3 cups confectioner's sugar
pinch of salt
pinch of nutmeg
2 1/2 Tablespoons eggnog
1 Tablespoon dark rum (optional)
For garnish
Instructions
To make the cupcakes, preheat the oven to 350ºF. Line cupcake pans with paper liners. In a medium bowl, combine the flour, baking soda, baking powder, salt and nutmeg and whisk to combine. In the bowl of an electric mixer, combine the rum (if using), eggnog, vegetable oil, vinegar, and sugar. Beat on medium-low speed until well blended. Add in the dry ingredients and mix on low speed just until incorporated.

Scoop the batter into the prepared cupcake liners, filling the cups 2/3 full. Bake 22-24 minutes, or until a toothpick inserted in the center comes out clean. Allow to cool in the pan 5 minutes, then transfer to a wire rack to cool completely.

To make the frosting, place the butter in the bowl of an electric mixer fitted with the whisk attachment. Beat on medium-high speed until smooth, 20-30 seconds. Add in the powdered sugar, salt and nutmeg, and mix on medium-high speed until incorporated and smooth, about 1 minute. Scrape down the sides of the bowl. Add in the eggnog and whip on medium-high speed until light and fluffy, 4 minutes. With the mixer on medium-low speed, blend in the rum, if using.

Fill a pastry bag with the frosting and decorate the cooled cupcakes as desired. Sprinkle with grated nutmeg, if desired.