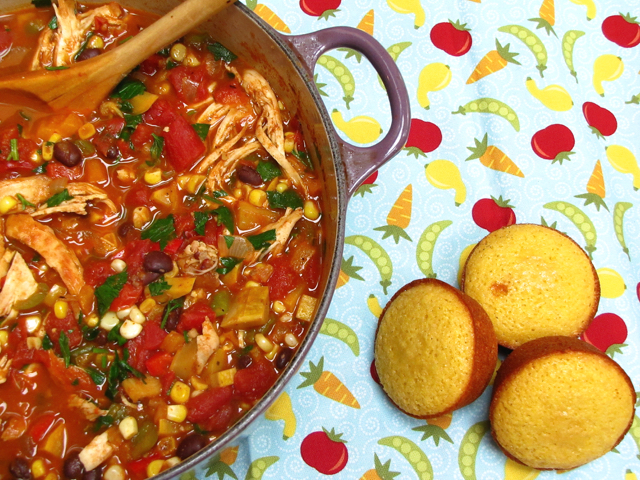 What is it about a big pot of fresh veggies that is so appealing? When I saw this recipe, I knew that I needed to make it immediately. It worked out perfectly because I had several squash sitting in my fridge needing to be used up. I love the idea of basically throwing a bunch of vegetables into a pot then letting it cook until delicious. All the flavors blend together while cooking, but you can still taste the individual vegetables in each bite. It makes a pretty large pot too, which is perfect in my opinion. I gave a bowlful to my dad for him to have for dinner, and we still had enough leftovers for the next night! I served the chili with honey cornbread muffins and shredded cheddar cheese. (The muffins were okay, but a little too sweet in my opinion.)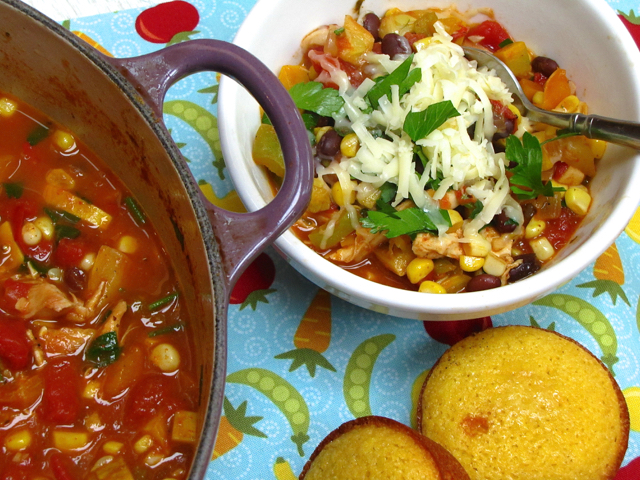 ---
Recipe adapted from A Farmgirl's Dabbles
End of Summer Herby Chicken Chili
This summer chili is perfect for when the days get shorter and cooler. It's packed with summer vegetables, beans and chicken. Filling, healthy and satisfying.
Ingredients
4 Tablespoons vegetable or grapeseed oil, divided
1 lb. chicken breasts, seasoned with salt and pepper sprinkled on both sides
1 large yellow onion, chopped
1 large red or yellow bell pepper, chopped
1 green pepper, chopped
4 large garlic cloves, minced
1 teaspoon minced fresh jalapeño pepper
1 zucchini, chopped
1 yellow squash, chopped
corn kernels cut from 4 large ears of fresh uncooked corn
2 (14.5 oz.) cans diced fire roasted tomatoes
1 (14.5 oz.) can black beans, drained and rinsed
12 oz. chicken broth
2 Tablespoons cumin
1 Tablespoon chili powder
1 teaspoon paprika
juice and zest from 1 lime
1 cup chopped fresh herbs of your choice (I used parsley because that's what I had the most of)
Instructions
In a large heavy duty soup pot or Dutch oven, heat 2 tablespoons of the oil over medium-high heat. Add the chicken breasts and sauté until golden. Turn the chicken over and sauté the other side until golden. Then turn heat down to medium, cover the pan with the lid, and cook just until chicken is no longer pink inside, about 8-10 minutes. Remove the chicken to a cutting board and set aside.
Return the pot to the stovetop and heat to medium-high. Add remaining 2 tablespoons of oil. When the oil is shimmering, add the onion, peppers, garlic, and jalapeño. Sauté for 5 minutes, stirring occasionally. Add zucchini and yellow squash and sauté an additional 5 minutes. Add corn, tomatoes, chicken broth, cumin, chili powder, and paprika. Stir to combine. Heat until bubbling and then reduce heat to medium-low and cook for 10 minutes. Using 2 forks, shred the chicken breasts and add to the pot, followed by the fresh lime juice and zest. Right before serving, stir in the fresh herbs. Adjust to taste with salt and freshly ground black pepper.
Serve with shredded cheese and cornbread, if desired.