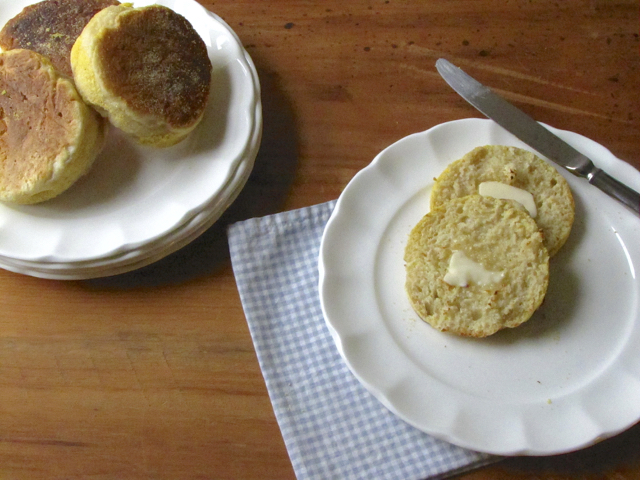 Bread is probably one of my favorite foods. Like, I consider it to be in its own personal food group. I especially crave it during the long, cold winter months. Nothing yells comfort food more than bread. Making my own bread puts it over the top. Nothing beats the smell and taste of homemade bread. It makes whatever your eating with it, 10 times better.
These english muffins are no exception. I made my breakfast sandwiches with these muffins and it took them to the next level and beyond. They were ah-mazing. My husband has been asking me to make more english muffins ever since! These are perfect to make a big batch and throw in the freezer. Don't let the two day wait deter you from making these, because believe me, it is so worth it.
---
Recipe from Peter Reinhart's Artisan Breads Every Day
English Muffins
Yield:
8-10 english muffins
You'll never go back to store bought after you make these. They are filled with flavor and the beloved nooks and crannies meant for butter.
Ingredients
2 teaspoons honey
1 Tablespoon vegetable or olive oil
1 1/2 cups lukewarm milk
2 2/3 cups unbleached bread flour
3/4 teaspoon salt
2 teaspoons instant yeast (rapid rise)
1/2 teaspoon baking soda
3 Tablespoons warm water
cornmeal, for dusting
Instructions
In a small bowl or measuring cup, mix the honey, oil and milk together until the honey is dissolved. In a mixing bowl, whisk the flour, salt and yeast together, then pour in the milk mixture. Whisk for 1 minute, until all the ingredients are evenly distributed. Scrape down the bowl with a spatula, then mix the batter for a few more seconds. Scrape down the bowl again, then cover tightly with plastic wrap and immediately refrigerate overnight or for up to 4 days. The batter will bubble and rise as it cools down.

On baking day, remove the dough from the fridge about 2 hours before planning to bake.

After two hours, dissolve the baking soda in the warm water and gently fold it into the dough, until fully absorbed. Heat a flat griddle pan or cast-iron skillet over medium heat.

Prepare crumpet rings (small metal rings, about 3-4 inches wide) by spraying with oil and dusting the insides with cornmeal. Set aside.

Spray the griddle with oil and place as many rings that will fit into the pan. Dust the pan inside of the rings with cornmeal. Lower the heat to medium-low.

Spray a 1/3 measuring cup with oil and fill it with dough. Pour the measured dough into each ring, filling about 2/3 full. Fill each ring then sprinkle the tops with cornmeal.

Cook the muffins for at least 12 minutes, until the bottoms are golden brown and crisp. (You may need to adjust your heat accordingly, make sure they aren't burning!) Then, flip the muffins over, rings and all, and cook for another 12 minutes. If it takes less than 12 minutes, then the heat is too high.

When both sides are golden and the dough is springy to the touch, remove the muffins from the pan. Prepare more rings if necessary, and continue the cooking process until all the dough is gone.

Cool them in their rings for about 2 minutes, then pop out. Turn the muffins on their edge to cool. Cool for at least 10 minutes before serving. Split the muffins in two with a fork. Let cool completely before storing and/or freezing. Store in a air tight container for about 5 days at room temperature.