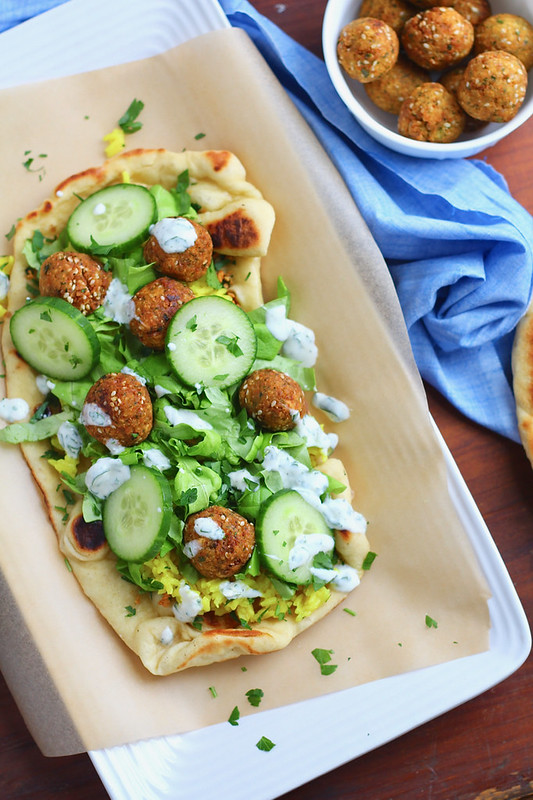 I am so so SO excited to share this recipe with you. Do you remember how I shared the naan with you a few weeks ago? Well, I was just trying to warm you up and get you ready for this dinner. Because dammnnn you need this. Tonight. Right now. This is one of those meals that I could barely contain my excitement for when I put it on the weekly menu. It's dangerous going into a first-time dinner with high expectations because those can fail miserably. But, I just had the feeling. My mind was seriously blown as I was eating this meal. And that does NOT happen very often. I was nearly giddy with excitement after each bite. I know that getting so excited over food sounds a little silly. But I know you foodies will totally understand!
So, let's talk about what's in this bad boy. So first, it starts out with my new favorite naan as a base. Then, rice that has been cooked with turmeric, a little butter and and crushed pepper, is sprinkled over the naan. Next up, some shredded lettuce and sliced cucumbers. Theeennn comes..drum roll… fried falafel rounds. I could just eat those plain all day long. Oh right, and to finish it all off, a herbed yogurt sauce is drizzled over everything. Every bite is like mini explosions for your taste buds.
Yes, this recipe does take some time and planning ahead. If you like to meal prep in advance, you could make the naan the day before (or weeks in advance, just freeze!), make up the chickpea rounds in the morning, just don't fry them. Place them well covered in the refrigerator. The rice could be cooked and reheated any time. So, if you want to break up all the stages, you could certainly do so.
Take the time to make this, because I promise you, you won't regret it. This was probably one of the best meals I have had in quite some time. Or at least my favorite and something I was incredibly excited about. And yes, you can eat these as leftovers. The chickpea rounds will lose their crispy exterior, but it does not take away from their amazing flavor whatsoever.
---
Recipe adapted from Half Baked Harvest
Falafel Naan Wraps with Golden Rice
One of the more satisfying meals you could eat. Homemade naan is topped with crisp lettuce and sliced cucumbers, turmeric flavored rice and fried vegetable falafels. Topped with a tangy yogurt sauce, this dish is incredibly satisfying, filling and mostly healthy. 
Ingredients
For the yogurt sauce
1/2 cup plain, whole milk yogurt
2 teaspoons honey
1 Tablespoon apple cider vinegar
1 Tablespoon lemon juice
1/2 teaspoon granulated garlic
1/4 cup fresh parsley, chopped
2 cloves garlic, crushed
a pinch of salt and pepper
For the golden rice
2 Tablespoons salted butter
1/2 teaspoon ground turmeric
pinch crushed red pepper flakes
1 cup long grain white rice
2 cups water
For the falafel
1 cup chopped broccoli and carrots
2 cloves garlic
1 can (16 oz.) chickpeas, drained and rinsed
1/2 cup all-purpose flour
1/4 cup raw sesame seeds
1 teaspoon ground cumin
1/4 cup fresh cilantro and/or parsley
kosher salt and black pepper
canola or vegetable oil, for frying
6 fresh naan or pitas, warmed
shredded lettuce and sliced cucumbers
Instructions
To make the yogurt sauce, whisk together all the ingredients in a small bow. Cover with plastic wrap and place in the refrigerator for a couple of hours to allow the flavors to meld.
To make the rice, melt the butter, turmeric, and crushed red pepper flakes in a medium pot over high heat. Add the rice and toss to coat. Stir in 2 cups water and a pinch of salt and bring to a boil. Place the lid on the pot and turn the heat down to low. Cook the rice for 10 minutes on low and then turn the heat off completely. Let the rice sit, covered, for another 15 minutes. Fluff the rice with a fork.
To make the falafel. Add the veggies to a food processor and garlic and pulse until finely chopped. Add the chickpeas, flour, sesame seeds, garlic, cumin, cilantro, and a pinch each of salt and pepper. Pulse until the mixture is combined and mostly smooth. Roll or scoop the dough into rounded tablespoon size balls.
Add a few inches of oil to the bottom of a heavy pot fitted with a candy thermometer. Heat to 375ºF. Fry the balls for 2-3 minutes or until golden and cooked through. Drain onto paper towels.
To assemble, spoon the rice over the wraps and top with lettuce, falafels, and cucumber. Drizzle the yogurt sauce over the top. Serve immediately.