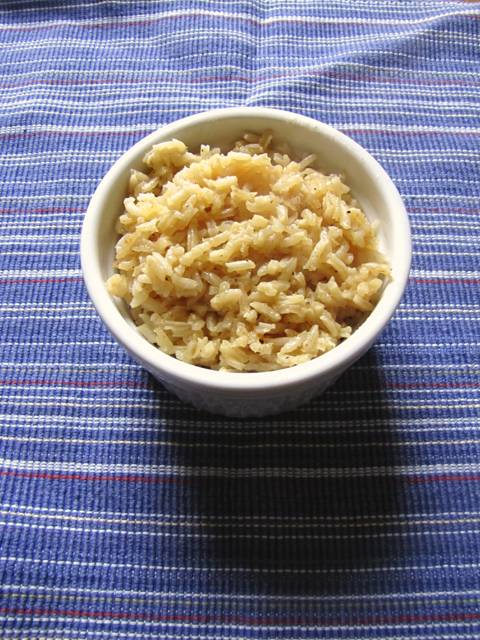 I am pretty excited that June has brought some spectacular weather. The kids have been outside nearly all day, every day. My daughter has a fascination with catching butterflies with her little net, then watching them fly away. I am pretty sure that she manages to catch more butterflies than I can! My son likes to go back and forth between attempting to blow bubbles and playing in the dirt driveway with his little trucks. It is so much fun to watch them. I am not looking forward to them being cooped up this weekend with remnants of our first tropical storm coming through. It's always so sad to see them stand at the door begging to go out on really stormy days.
Okay, on to this wonderful recipe. This rice dish has been a huge hit in my household for quite a while. It is my go-to side dish. In fact, I feel a little guilty that I didn't post it earlier! I am pretty sure that if I left a pot of this unattended, my husband would eat it all. I typically have this as a side dish to chicken dishes, especially our favorite lemon chicken recipe, but it would make a great side dish to anything you want! In fact, I might have to change my dinner plans tonight to make this….
---
Recipe adapted from Annie's Eats
Garlic Rice Pilaf
Total Time:
1 hour
5 minutes
This simple side dish is wonderfully flavored and will become the rice dish you want to serve with everything.
Ingredients
4 Tablespoons butter
6 cloves garlic, minced or pressed
2 cups long-grain white rice
5 cups chicken broth (or vegetable broth), divided
1 teaspoon salt
3/4 teaspoon pepper
squeeze of lemon juice
Instructions
Preheat the oven to 375ºF. Have ready a covered casserole dish (a dutch oven works great for this). In a saucepan or skillet, melt the butter over medium-high heat. Add the garlic and rice to the pan and cook until both are golden brown, about 5-6 minutes. Stir in 2 cups of the chicken broth, salt and pepper, and bring to a boil. Pour the mixture into the casserole dish, cover, and bake for 25 minutes.

Stir in the remaining 3 cups chicken broth, and bake, covered for 15-25 minutes, until all the water is absorbed and the rice is tender. Stir in a few squeezes of fresh lemon juice. Fluff the rice with a fork and serve.
Notes
*You can easily cut this recipe in half without changing the baking times.