October seems to have decided to become early September. It has been 60 degrees for several days in a row. This is unheard of people! Of course the hurricane that went by us way offshore is pushing up a lot of the warm air. It's just weird because in September I was pulling out all the winter hats and mittens because it was high 30's every morning. And I just put our down comforters on our beds! I can't seem to keep up with the temperatures these days. But that is New England for you! As the saying goes, "Don't like the weather? Wait a minute!"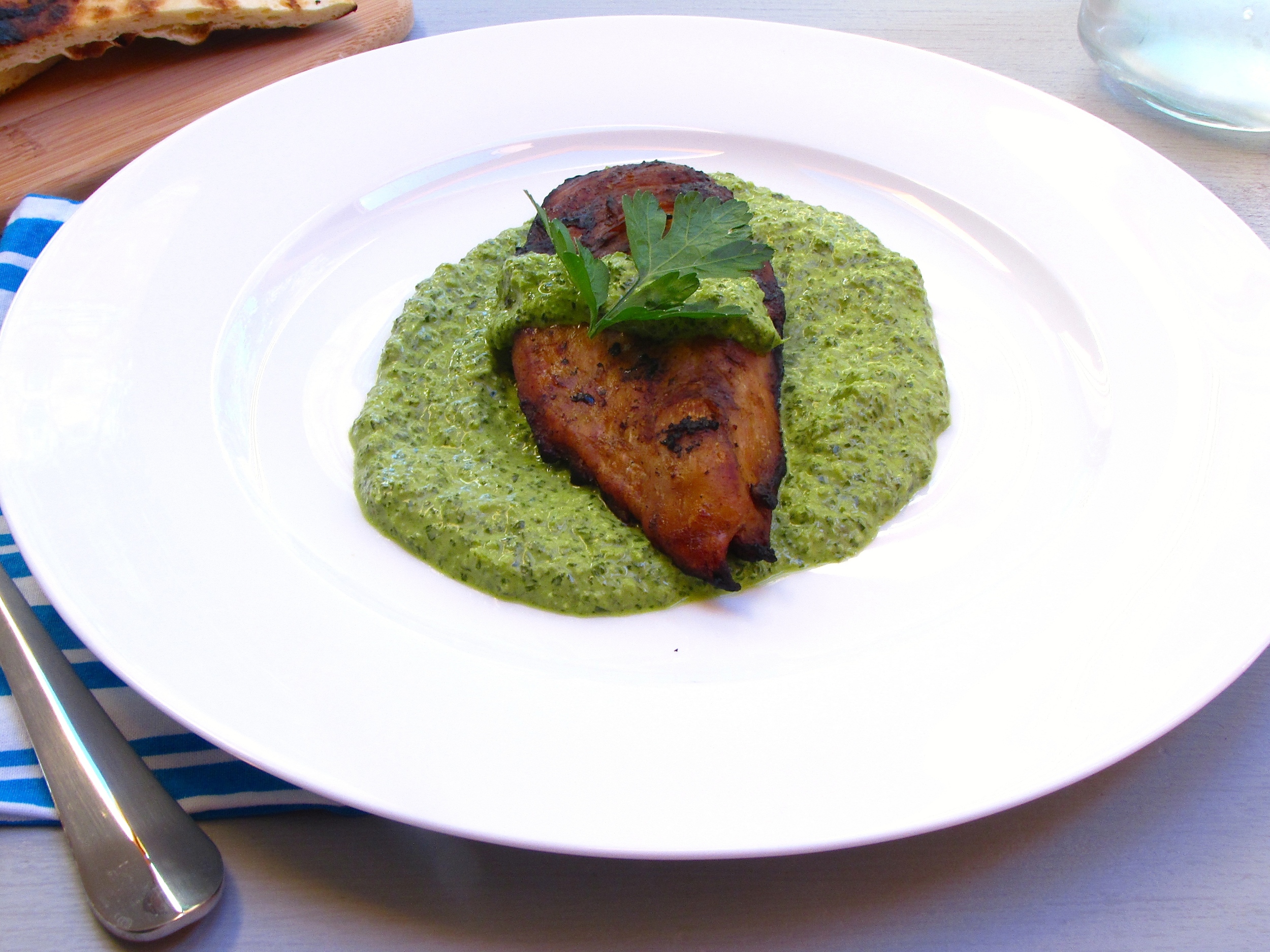 I have been taking advantage of this warmer weather to squeeze in some more grilled dinners. (Of course us Mainer's tend to use our grills all winter.) When I saw this recipe for grilled chicken with a delicious sauce, I jumped at the chance to make it. My parsley has flourished this summer and I haven't been able to keep up with it. So a sauce that uses a large quantity of it was a perfect way to use up some before it dies in the cold weather that is bound to come eventually!
The sauce was an excellent addition with the chicken. Especially to hide the fact that I over cooked the chicken. That's why I usually make my husband grill. Ha! I made grilled flatbread to go along with the dinner, which was perfect for dipping into the sauce as well. (I totally took that great idea from Annie!) The sauce is definitely worth the extra step. Although, who are we kidding? All you have to do is throw it all into a food processor or blender and the machine does all the work! That's a win in my book!
---
Recipe adapted from Annie's Eats
Grilled Chicken with Garlicky Green Sauce
Grilled chicken served with a fresh and crispy green sauce. Wonderful on its own, this makes a beautiful summer dish.
Ingredients
For the chicken
1/4 cup olive oil
Juice of 1/2 a lemon
2-3 cloves garlic, minced
1/2 teaspoon red pepper flakes
1/2 teaspoon kosher salt
1/4 teaspoon pepper
4 small boneless, skinless chicken breasts
For the sauce
3/4 to 1 cup fresh parsley leaves, rinsed and patted dry
4 scallions, green parts only, coarsely chopped
1/4 cup freshly squeezed lime juice
2 cloves garlic, minced
2 1/2 Tablespoons low fat mayonnaise
2 1/2 Tablespoons low fat greek yogurt (or mayo)
Coarse salt and freshly ground pepper
Instructions
In a shallow dish or plastic bag, combine the olive oil, lemon juice, garlic, red pepper flakes, salt and pepper. Whisk until well combined. Place the chicken breasts in the dish with the marinade, turn once to coat. Cover and refrigerate for 30-60 minutes.

Heat a grill to medium-high heat. While the grill is heating, make the sauce. Combine the parsley, scallions, lime juice, garlic, mayonnaise, and greek yogurt in a blender or a food processor. Blend until smooth. Season to taste with salt and pepper.

Add the chicken to the grill and cook, turning once, until nicely browned and the internal temperature registers 160ºF on an instant read thermometer. Remove to a plate and let rest a few minutes before serving with the green sauce.
Notes
This is great served on its own, but you could serve it over rice or quinoa as well.