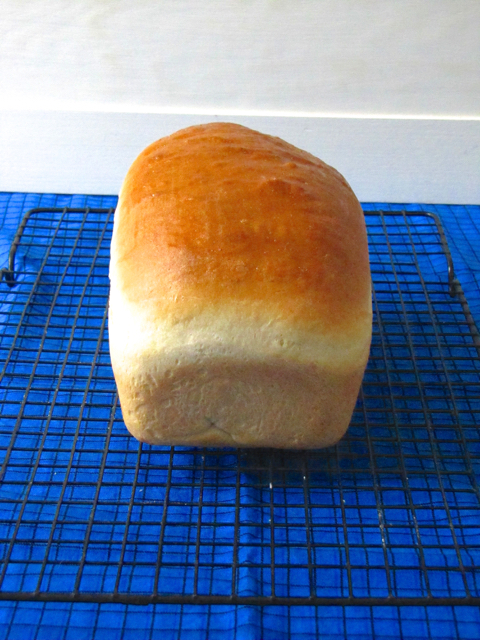 Making my own bread is something that I have always wanted to get into full time, but just never seem to have gotten around to it. Every summer, I say to myself, I will make a mother starter for sourdough come winter. Yeah, I have said that for probably three years now and still haven't gotten around to it! I guess the idea of having to either bake bread or feed the starter every week is little intimidating and more commitment than I can handle. Kind of sad right?
So moving on from my lack of sourdough making, I am always up for a quick and easy sandwich bread. I was menu planning last week and skimming a few cookbooks, when I came across this recipe. I immediately knew I had to make it asap. I definitely love me some Ina. In fact, before we got rid of TV recently, I used to drink my cup of coffee in the morning, after dropping my daughter off at school, and sit and watch an episode of Barefoot Contessa with my son. It was totally his favorite show. (Do I see a future chef in the making?)
I knew this bread was going to be killer when the I peeked under my dish cloth while the dough was rising and saw how beautiful and smooth it was. I was not wrong! This bread is superbly moist, faintly sweet, and beyond perfect for sandwiches. Or just slathering on some butter while still warm. And it smells amazing while cooking. I definitely had grilled cheese two days in a row just so I could eat this bread. I cannot wait to make a lot more and freeze for later use! The heck with store bought bread!
---
Recipe heavily adapted from Barefoot Contessa at Home by Ina Garten
Honey White Bread
This bread is slightly sweet, moist, but sturdy enough to handle any type of sandwich.
Ingredients
1/2 cup warm water
2 packages (4 1/2 teaspoons) dry yeast
1 teaspoon granulated sugar
1 1/2 cups warm whole milk
6 Tablespoons unsalted butter, melted and cooled
1 1/2 Tablespoons honey
2 large egg yolks
5-6 cups all-purpose flour
1 Tablespoon kosher salt
1 egg white, lightly beaten
Instructions
Place the warm water in the bowl of an electric mixer fitted with a dough hook attachment. Add the yeast and sugar; stir and allow them to dissolve for 5 minutes.

Add the milk, butter and honey. Mix on medium speed until blended. Add the egg yolks, 3 cups of the flour, and the salt. Mix on low speed for about 5 minutes. With the mixer still on low speed, add 2 more cups of flour. Increase the speed to medium and slowly add just enough of the remaining flour so the dough doesn't stick to the bowl. Knead on medium speed for about 8 minutes, adding flour as necessary.

Scrape the dough onto a floured surface and knead by hand for a minute, until the dough is smooth and elastic. Grease a large bowl. Place the dough in the greased bowl, turning so the top is greased. Cover with a damp dish towel, and let rise in a warm, draft free place for 1 hour, until the dough has doubled in volume.

Grease two 9x5 inch loaf pans. Punch down the dough and divide in half. Roll and shape each half into a loaf shape and place each in the prepared pans. Cover again with the damp dish towel and let rise for 1 hour, until doubled in volume.

Meanwhile, preheat the oven to 350ºF. When the dough is ready, brush the tops with the egg white. Place in the preheated oven, and bake for 35-40 minutes, or until they sound hollow when tapped on the bottom.

Turn the bread out of the pans and cool completely on wire racks before slicing. Freeze immediately, or store in an airtight bag for 3-4 days at room temperature.