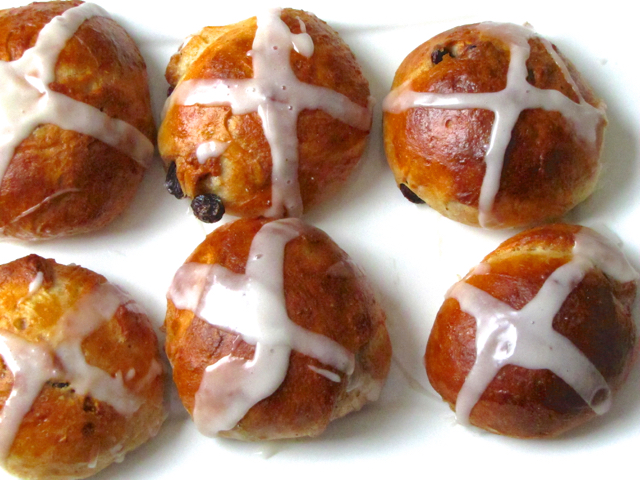 Spring is upon us and Easter is coming! It makes me so happy. It's amazing how the end of a very, very long winter can feel so amazing. 40 degrees feels awesome! This wonderful, warm sun makes me want to sing the song "Hello Sunshine" by Super Furry Animals. Anyone else know that song? (I am pretty sure I originally heard that song from the O.C.- Sad, I know.)
Since Easter is just next weekend, I thought I better get to sharing a few recipes that you may want to make for the holiday! We don't usually do a whole lot for the holiday. My husband's grandmother always has a big Easter breakfast at her house that we go to. That is basically the extent of our day. Although, this year I think the kids might be up for some egg dying. I haven't done it in years!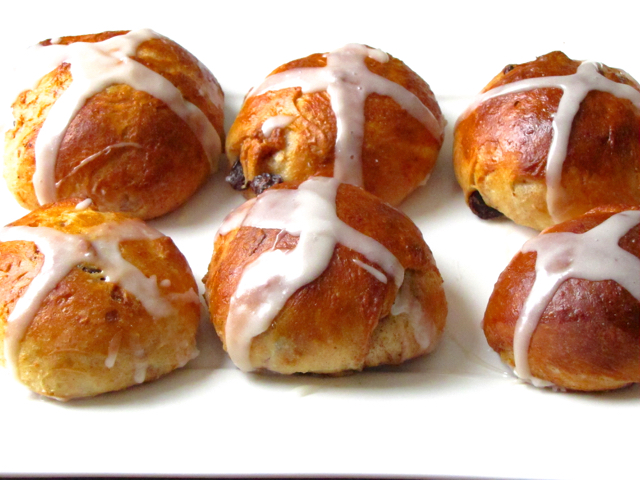 These hot cross buns are the perfect addiction to any Easter breakfast or brunch! They are slightly sweet and incredibly tasty. I have only ever had them once before. My brother-in-law brought them for a easter brunch at my parent's house a few years back. I was immediately hooked. But, for some reason, I haven't tried to make them until this year! They are pretty simple and so worth it. How can you turn down a moist, sweet bread? I know I can't!
---
Recipe adapted from The Pioneer Woman Cooks
Hot Cross Buns
This sweet buns are great to serve at Easter. Soft and tender, sprinkled with raisins and topped with a sweet glaze- they will become everyone's favorite.
Ingredients
For the buns
2 cups whole milk
1/2 cup vegetable oil
1 teaspoon vanilla extract
1/2 cup granulated sugar
1 package (2 1/4 teaspoons) active dry yeast
4 1/2 cups all-purpose flour, divided
1/2 teaspoon (heaping) baking powder
1/2 teaspoon (scant) baking soda
2 teaspoons salt
1/4 cup sugar
1 teaspoon ground cinnamon
1 teaspoon ground nutmeg
3/4 cup raisins
For the glaze
1 egg white
splash of milk
For the icing
3 cups confectioners' sugar
1 1/2 teaspoons vanilla extract
4-6 Tablespoons milk
Instructions
To make the buns, combine 2 cups of milk, vegetable oil, vanilla extract and 1/2 cup sugar in a medium saucepan. Stir, over medium-high heat and cook until very warm but not boiling. Turn off the heat and allow to cool until mixture is still warm, but not hot--about 30 minutes.

Sprinkle yeast over the milk mixture. Add 4 cups of flour and stir to combine. The mixture will be very sticky. Cover with a damp towel and set aside for 1 hour.

Add 1/2 cup flour, baking powder, baking soda, and salt to the yeast mixture. Stir until combined.

In a small bowl, combine 1/4 cup sugar with the cinnamon and nutmeg. Set aside.

Lightly flour a surface. Lightly punch down the dough and scrape out onto the floured surface.

Flatten out the dough slightly with your hands. Sprinkle a couple of tablespoons of the sugar and spice mixture over the dough. Then, sprinkle about a third of the raisins over the dough. Fold the dough in half, and pat to flatten again. Sprinkle a couple more tablespoons of the sugar and spice mixture evenly over the dough and top with a third of the raisins. Repeat this process one more time. (Don't worry if you don't use all the sugar and spice mixture.)

Have ready greased or parchment/silpat lined baking sheets.

Pinch off golf ball-size bunches of dough. With floured hands, roll it into a ball, then turn the edges under themselves slightly. Place on the prepared baking sheets. Cover with the damp dish cloth and allow to rise in a warm place for at least 30 minutes. (I let mine rise for about 1 hour.)

Preheat the oven to 400ºF.

In a small bowl, whisk the egg white with a splash of milk to create the glaze. Lightly brush onto each roll after it is done rising.

Place the buns in the preheated oven and bake for 15-20 minutes, or until they are golden brown.

Let cool on a wire rack.

Meanwhile, make the icing by whisking the confectioner's sugar, vanilla extract and 3 tablespoons milk together in a small bowl. Whisk in one more tablespoon of milk in at a time until desired consistency is reached. Place in a small plastic bag with a corner cut out or in a piping bag. Pipe crosses onto each cooled bun. (I got a little over excited and didn't wait for mine to cool completely, which resulted in runny crosses, but they were still delicious!) Let the icing harden before serving. (You can speed this process up by placing them in the refrigerator if you are short on time.)

Serve immediately or store covered in the fridge for 3-4 days, allowing to come to room temperature before serving.