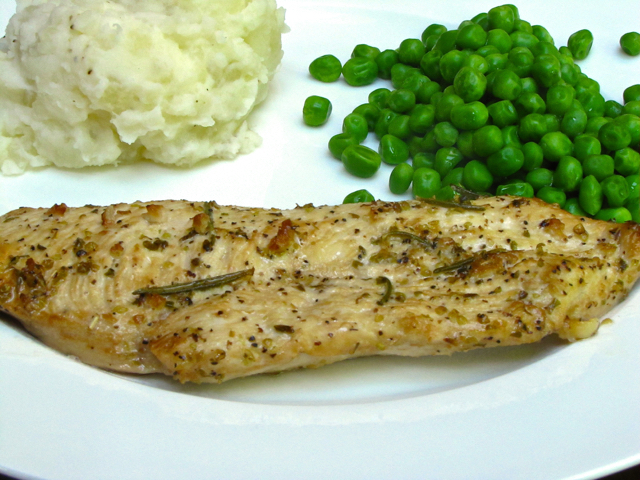 Since my daughter's birthday was last weekend, we let her chose her cake and dinner that she wanted. She requested chicken, mashed potatoes, peas and corn. I was very impressed. Chicken is my favorite type of meat, so I was pretty excited for the dinner myself. I knew that a marinade was in order, and this one is my favorites. It is incredibly easy and full of flavor. You can even prepare this in the morning before heading to work. The perfect, easy, weeknight meal.
---
Recipe adapted from Annie's Eats
Island Chicken
A simple marinade for chicken yields a super tasty meal that will satisfy anyone.
Ingredients
1/2 cup vegetable oil
3 Tablespoons lemon juice
1 1/2 Tablespoons soy sauce
1 clove garlic, minced or pressed
3/4 teaspoon dried oregano
1/4 teaspoon salt
Freshly ground black pepper
1 sprig fresh rosemary, chopped
2-3 chicken breasts, butterflied
Instructions
Combine all ingredients except chicken in a mixing bowl or large airtight plastic bag. Whisk or shake well until the marinade is mixed. Add the chicken breasts to the bowl or plastic bag so that they are covered by the marinade. If using a bowl, cover tightly with plastic wrap. If using a plastic bag, press out all the excess air and seal the bag tightly. Refrigerate and marinate for 3 hours, or up to 10 hours.

When ready to cook the chicken, preheat the oven to 350ºF. Place the chicken breasts in a baking dish and pour the excess marinade over them. Bake in the oven until cooked through and the internal temperature reaches 170ºF, about 45 minutes. Remove from the oven and let rest for 5 minutes before serving.