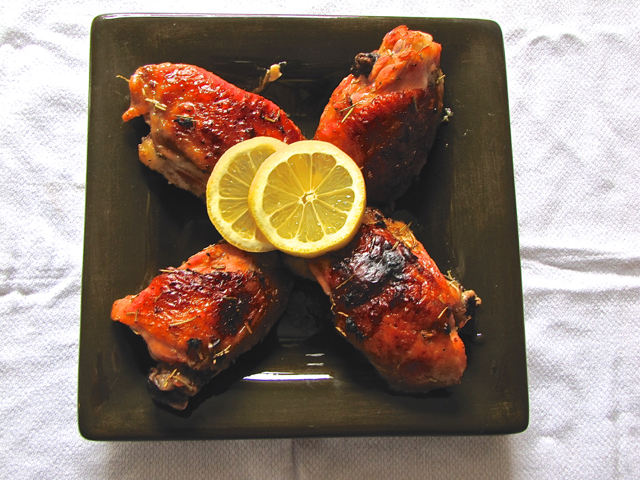 Chicken has always been my choice meat. I prefer it over just about every kind of meat. I love it because it is so versatile and it goes with just about anything. We buy organic chickens from Old Ackley Farm, which only goes through the summer, so I find myself stock piling chickens because I don't want to use them up too quickly. It is so silly, I find that I don't want to use things that are special (certain favorite clothes), or that I have put a lot of work in (like home canned goods). Maybe I am afraid of running out or ruining my favorite shirt? I don't know.. But, in result, I end up with a large amount of things that were supposed to be used throughout the year instead inside one month. And a drawer of neglected clothes that seem to be waiting for that "certain" day. Okay, saying this out loud (writing out loud??) makes me sound like some kind of weirdo.
Moving on to this fabulous recipe. This is just about my favorite marinade recipe for chicken. It's so simple. Something about marinade is magical. It does all the work for you! I love to pair this with our favorite garlic rice pilaf and some green beans. It's always a big hit in my house.
---
Recipe from Annie's Eats
Lemon Chicken
Total Time:
1 hour
3 minutes
This simply marinated chicken is a great dish to serve any time of the year.
Ingredients
2 Tablespoons lemon zest
1/3 cup freshly squeezed lemon juice
2 cloves garlic, crushed
2 teaspoons fresh thyme leaves, or 1/2 teaspoon dried
1 teaspoon fresh rosemary leaves, finely minced, or 1/4 teaspoon dried
1 teaspoon salt
1 teaspoon black pepper
2-4 lbs. of bone-in, skin-on chicken thighs or drumsticks (I like to use a combination)
2 Tablespoons melted butter
Instructions
Combine the lemon zest, lemon juice, garlic, thyme, rosemary, salt and pepper in a large ziplock bag. Seal the bag and shake well to blend. Place the chicken pieces in the bag with the marinade, pressing out excess air and sealing once more. Refrigerate and let marinate for 2 hours.

Preheat the oven to 425ºF. Remove the chicken pieces from the marinade and transfer to a baking dish, skin side up, reserving the leftover marinade. Brush the top of each chicken piece with melted butter.

Bake for 50-55 minutes, until the skins are crispy and well-browned. Halfway through baking, pour the remaining marinade over the chicken pieces in the baking dish. Serve with lemon slices if desired.