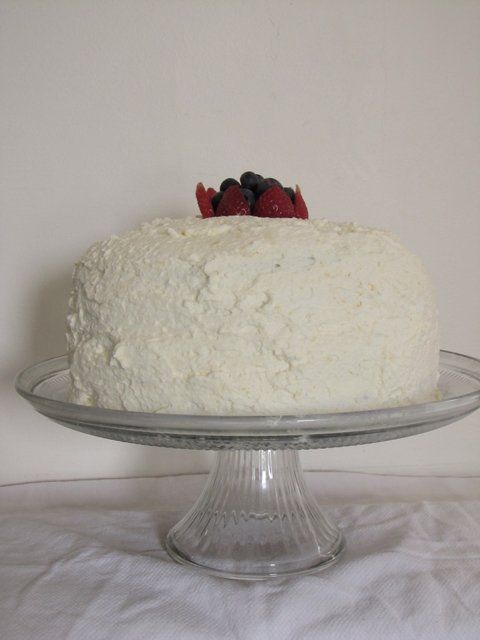 A few days ago it was my birthday. Every year, I make my own dessert. Since I am picky about cake, I like to make sure it is one that I will actually enjoy. Also, it is really satisfying to see my family enjoy the cake.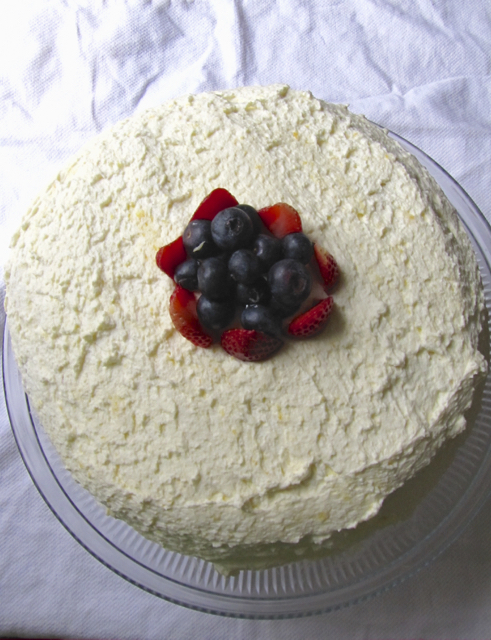 Some years, I go totally non-traditional and make a pie or an ice cream pie. This year, I knew what I wanted to make at least a month in advance. Sad eh?
When I used to work at Lily's Cafe, Kyra had this cake for dessert occasionally. I would pray that there would be a piece left at the end of the night so all of us workers could split it. I definitely would elbow my way in with my fork.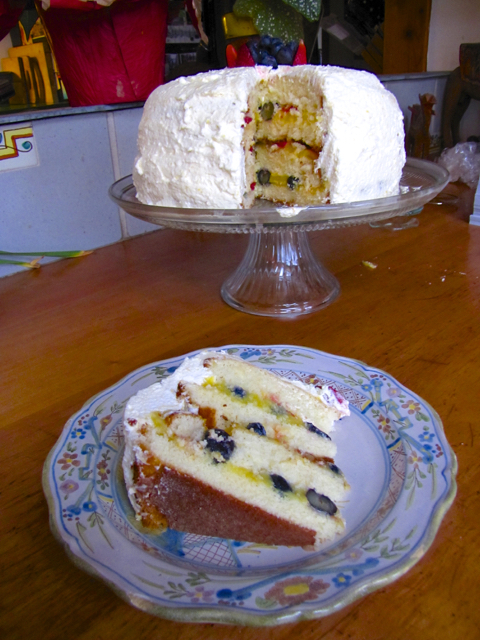 This cake is similar to an angel food cake. It is spongy, moist, light and absolutely delicious! And the surprise in the middle is, a fabulous, homemade lemon curd. Oh.my.word. With a whipped cream frosting with lemon curd folded in, it is divine! I have been seriously craving fresh, summer fruit lately, so I put strawberries and blueberries in with the lemon curd in the middle.
---
Recipe from Lily's Café Cookbook, Revised Edition by Kyra Alex
Lemon Layer Cake
This white cake is so light and fluffy and is taken over the top when filled with a zingy, homemade lemon curd and a whipped cream frosting. A fun, spring dessert.
Ingredients
For the Lemon Curd
3/4 cup fresh lemon juice
2 Tablespoons cornstarch
1 cup and 2 Tablespoons granulated sugar
3 eggs
6 egg yolks
9 Tablespoons unsalted butter
zest of 2 lemons
For the Cake
4 eggs
2 cups granulated sugar
2 cups unbleached all-purpose flour
2 teaspoons baking powder
1/8 teaspoon salt
1 cup milk
4 Tablespoons unsalted butter
1 teaspoon vanilla extract
For the Mousse Frosting
1 1/2 cups heavy cream
1/4 cup confectioners' sugar
2/3 cup lemon curd
Instructions
For the lemon curd: Whisk the lemon juice and cornstarch in a medium saucepan until smooth. Add the sugar, eggs, egg yolks, butter and lemon zest in the saucepan. Place over medium heat. Cook, stirring constantly with a whisk, until thickened and smooth, about 8-10 minutes. Be careful not to scorch the bottom of the pan by having the heat too high. The curd should hold the pattern of the whisk when stirred. Remove from heat and transfer to a metal bowl. Place plastic wrap over the bowl, pushing down so the plastic is touching the curd completely (prevents a skin from forming). Cool completely (I made mine the day before).

To make the cake: Preheat the oven to 350ºF. Grease and flour two 9-inch cake pans, knocking out excess flour. Making sure you grease the pans really well (I had a bit of a sticky problem on the bottoms).

In the bowl of your electric mixer, beat the eggs until light and lemon colored. Add sugar and continue beating until fluffy, about 3 minutes. In a separate bowl, mix together the flour, baking powder and salt. On low speed, slowly add the flour to the egg and sugar mixture and beat until smooth. In a small saucepan, heat the milk and butter, bringing it almost to a boil, stirring all the while. Beat the milk into the batter. Stir in the vanilla.

Pour into greased cake pans, and bake for 20-25 minutes, or until a toothpick inserted in the center comes out clean. Let cakes cool for 10-15 minutes then turn them out of the pan onto a cooling rack. Cool completely before frosting.

To make the frosting: In the bowl of your electric mixer, beat the heavy cream and sugar until it holds soft peaks. Gently fold in the 2/3 cup lemon curd.

To assemble the cake: Cut each layer of the cake horizontally to create four layers. Spread lemon curd on the bottom layer, and add fresh fruit if desired, then place the next layer on top and spread on more lemon curd. Continue to layer the cake and spread lemon curd (and desired fruit) on each layer. Do not spread lemon curd on the top of the cake. Frost the cake with the mousse frosting on the top and sides. Garnish with thin slices of lemon or desired fruit.
Notes
This cake is best the day it is made. To store, wrap well and refrigerate up to 4 days.