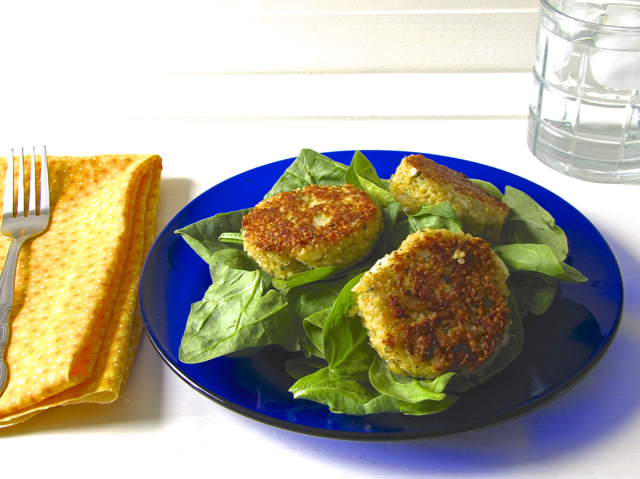 I hope everyone had a great fourth of July! My daughter was beyond excited to see the fireworks. So excited that she was asking when we could go see them about every 15 minutes, all day long. She was pretty excited when we finally got there! Little man on the other hand, fell asleep about 10 minutes into the show. So cute.
Did everyone have lots of yummy food at a cookout? I thought I would share a light and refreshing recipe today since I am sure everyone could use a break from burgers and hotdogs! These quinoa cakes are a favorite of mine. (Maybe not so hot with the kids though) They make a great light dinner or a wonderful out of the ordinary lunch. (Need to get out of the boring lunch rut!) You could have this over a bed of greens with some oil and vinegar dressing, add some parmesan cheese.. yum! Or you could eat these just by themselves!
---
Recipe adapted from Joy the Baker
Lemon Quinoa Cakes
These simple quinoa cakes are filled with lemon zest, cheese and herbs. They are a fun way to mix up quinoa and make a great, light dinner served over a bed of greens.
Ingredients
3/4 cup raw quinoa
1 cup and 2 Tablespoons water
1/4 teaspoon salt
2 large eggs
1/2 medium yellow onion, finely chopped
2 cloves garlic, minced
1/4 cup grated parmesan cheese
2 Tablespoons and 2 teaspoons chopped parsley
1 1/2 teaspoons lemon zest
1/2 cup panko bread crumbs
1/4 teaspoon salt
1/4 teaspoon freshly ground pepper, or crushed red pepper flakes
1 1/2 teaspoons water
1 Tablespoon grapeseed oil
Instructions
Rinse quinoa thoroughly under cold water in a fine mesh strainer. In a medium saucepan, place rinsed quinoa, water and 1/4 teaspoon salt. Place over medium heat and bring to a boil. Cover, decrease heat, and simmer for 25-30 minutes, until quinoa is tender. Remove from heat and allow to cool to room temperature.

In a small bowl, whisk the eggs. Set aside.

In a large bowl, toss together the onion, garlic, parmesan cheese, parsley, lemon zest, panko, salt, pepper and cooled quinoa. Add the beaten eggs and stir until all of the mixture is moistened.

Scoop the mixture out by the 2 tablespoonful. Use clean, moist fingers to form into a patty. Create as many patties as you want to eat. (The rest can be stored in the refrigerator and cooked the following day.)

In a large skillet over medium low heat, heat the grapeseed oil. Add as many patties that will fit comfortably. Cook until each side is browned, about 4-5 minutes on each side. Remove to a paper towel lined plate. Serve warm.