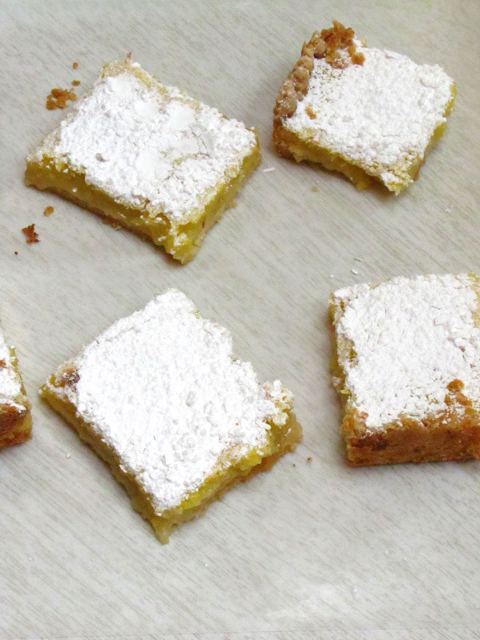 So, I feel kind of bad. I promised this recipe nearly a year ago and I am only sharing it now! I apologize. I had made these for my mom on her birthday, as well as the pineapple upside down cake. I was sorely disappointed with the photos taken, so I waited until I made them again to try and photograph them. Well, I didn't make them again until my sister requested them for her birthday this year! I really don't understand what took me so long to make them again. I was missing out!
These lemon squares are divine. They are like a little bites of summer. They are sweet, lemony, buttery- delicious! These are for real lemon lovers. You can't be weak hearted to eat these! Back in the day, when I worked at the cafe down the street, I would love to get these as a treat. These are a perfect treat. You will bring back an empty dish if you bring these to a cookout or party!
---
Recipe from Lily's Café Cookbook Revised Edition by Kyra Alex
Lemon Squares
These lemon squares have a sweet tart filling with a buttery, flaky crust. They are perfect to feed a crowd!
Ingredients
For the crust
2 cups all-purpose flour
1/2 cup sugar
16 Tablespoons (2 sticks) unsalted butter, at room temperature
For the filling
5 large eggs
2 cups sugar
5 Tablespoons all-purpose flour
3/4 cup fresh lemon juice
zest from 3 lemons
confectioner's sugar
Instructions
For the crust, preheat the oven to 350ºF. Grease a 9x13 pan and set aside.

In the bowl of a food processor, place the flour, sugar and butter. Process just until the ingredients start to hold together. Making sure there are no butter chunks left. Place the dough into the prepared pan. Using your fingers, press the dough evenly over the entire bottom and about an inch up the sides. (Don't worry about being exact.) Place in the oven and bake for 12-15 minutes, or until just beginning to brown around the edges. Let cool completely before filling.

While the crust is cooling, make the filling. In a large bowl, place the eggs and sugar. Stir with a wooden spoon until combined, being careful not to overmix. Stir in the flour, 1 tablespoon at a time until each addition is well blended. Stir in the lemon juice and zest.

Pour the filling into the cooled crust and bake at 350ºF for about 25 minutes or just until the filling is set. Remove from the oven and let cool completely. Once cool, dust with confectioner's sugar and cut into desired size squares.